06 Dec

Christmas 2019 on the Côte d'Azur

Welcome to our guide on celebrating the festive season on Côte d'Azur. Here you will find everything you need to know about the Christmas markets, local traditions, as well as some cool things to do this time of year.

The Christmas season is celebrated to its fullest on the French Riviera, both for its religious connotation as well as for its social aspect. In early December, the streets are starting to twinkle with festive lights at night, carols are playing in the stores that replaced swimsuits for Santa's hats and the Christmas spirit is palpable in the air on every step.

Provencal Christmas officially starts the 4th December on St Barbara's Day and continues until Fête de la Chandeleur' (Candlemas), also known as 'Fête de la Lumière', and even the literal translation of 'jour des crêpes' (pancake day) on the 2nd of February.

Christmas Eve is considered as important, if not more important than Christmas Day, and a lavish Christmas Réveillon dinner (wake-up dinner) is eaten with the family, sometimes for up to 6 hours. Many families would then go to Midnight Mass in a local church. After the mass, the family sits down to open the presents and to indulge in 13 desserts, representing Christ and the 12 disciples. It consists of dried figs, almonds, raisins, walnuts, dates, black and white nougat, candied fruit and fresh fruit, oreillettes (sugar pastries) and fougasse (a typical Provencal bread). Each of the 13 desserts has a special meaning.
 (Opening Image Copyright of Nice Ville)
Nice
Christmas Market
Let yourself fall under the festive spell of the annual Christmas Market – Marché de Noël – held in Jardin Albert 1er, just beside Massena Square from 6th December 2019 till 5th January 2020.
Around 70 chalets host the best and most unique craftspeople, artists and artisans selling Christmas themed goods, sweets, roasted chestnuts, traditional vin chaud (mulled wine) and other delicacies. Keep an eye on the stall serving oysters and champagne…
The market is open every day from 11.00 – 20.00 (Friday and Saturday till 21.00).
The other attractions of the Christmas Market include :
Father Christmas House with Santa being present every Wednesday, Saturday and Sunday and days of school holidays until 25th from 14.00 – 19.30.
A Ferris Wheel with marvellous views over Nice opened daily between 11.00 – 23.00. Magical especially at night time.
Free spectacles for kids such as Christmas movies, singing and magic shows held in Theatre Verdure (at the seaside part of the Christmas Market) every day from 21st December – 4th January at 15.00 (shows) and 17.30 (movies). Check the program on www.nice.fr .
The skating rink offers daily sessions at 11H00, 12H30, 14H00, 15H30, 17H00, 18H30 during the week with two extra sessions added on Saturday and Sunday at 20H00 and 21H30. For 5€, you get a use of the ice skates for one hour, just bring gloves and ID.
A giant snow globe on Place Massena promotes famous ski resorts of Auron, Isola 2000 and Saint Dalmas le Selvage for the duration of one month. Perfect for couple of mandatory cheesy festive selfies.
Christmas Mass at Cathedrale Sainte Reparate
Cathedrale Sainte Reparate is worth visiting in its own right.
Another tradition is attending Midnight Christmas Mass, if in Nice, don't miss the service in Sainte Reparate Cathedral on 24th December . People start to gather as early as 23H00 as the mass starts at 23H30, not at midnight, so don't be late! Christmas Day mass is held on 25th at 10H00, followed by midday mass in Latin.
A Nativity Scene on Place Rossetti just outside Sainte Reparate Cathedral invites passers-by to spend a quiet moment infused with Christmas spirit. It exhibits 17 real size statues of baby Jesus, Mary, Joseph, wise men, shepherds and animals between 19th and 29th December 2018 from 10H00 – 20H00 every day.
Christmas Swim
This jolly, heartwarming and very respected event takes part the very last Sunday before Christmas since 1944. Over two hundred swimmers wearing Christmas hats, including the mayor of Nice, Nicolas Estrosi, throw themselves into the sea every year. Come and join for a swim or applaud the brave as they dip into the cold waters – even the Mediterranean is freezing this time of the year!
In the 2017 event the youngest contestant was only 12 while the oldest was 90 years old!
Another Christmas swim is being held in nearby Villefranche sur Mer on Plage des Marinieres on Sunday 15th December.
Nice – Baie des Lumières, Nice – Bay of Lights
How does a city get into the Christmas spirit? The first Chinese lantern festival on the French Riviera takes place in the Parc Phoenix between 29.11.2019 – 23.2.2020 with over 550 monumental luminous lanterns lending the place a magical feel.
Don't miss on the 18m high Chinese wall, two 50m long dragons, live shows, martial arts demonstrations and food corner, all reflecting Chinese traditions. Open every day Wednesday to Sunday (closed Monday and Tuesday). During school holidays open every day including Wednesdays 25th December and 1st January.
Tickets can be purchased directly on the site or online on www.baiedeslumieres.com.
Adult 17€, Child 5-17 years old 12€, Family rate 46€ (two adults, two children).
Parc Phoenix, 405 Promenade des Anglais, 06200 Nice. How to get there? Take the new tram line 22 to Parc Phoenix stop.
Christmas Dinner / Lunch in famous Hotel Negresco
Hotel Negresco is a legendary institution in Nice. Why not to go festive, in style?
Hotel Negresco's La Rotonde restaurant serves a traditional Christmas menu for dinner on the 24th of December and for lunch on 25th of December for 85€ per person. This year's festive menu includes delicacies such as smoked salmon and crab, roasted king scallop and red cabbage soup, roasted capon with chestnut jus and winter vegetables, cheese and dessert. This is a real treat that will not break the bank.
Call to reserve 04 93 16 64 11 or email rotonde@lenegresco.com
The fancier Le Chantecler serves Christmas menu for 180€ per person.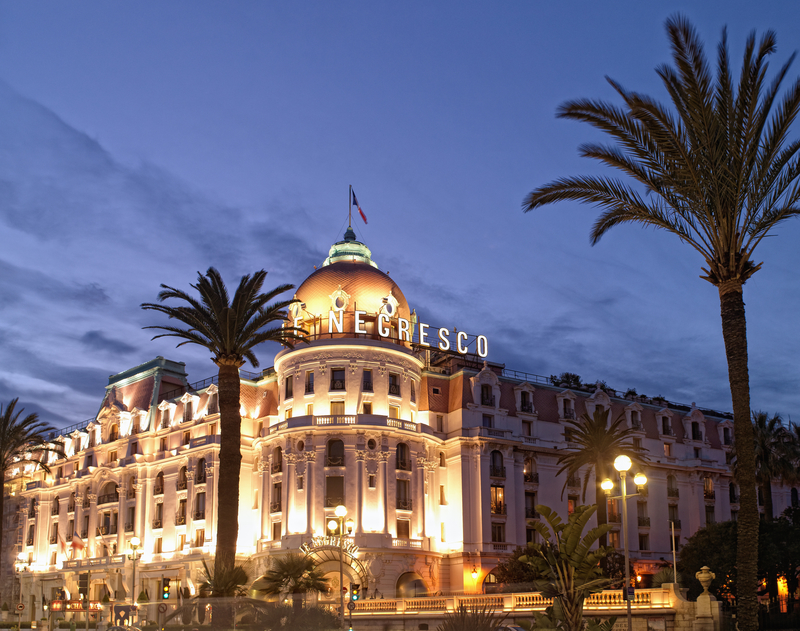 Christmas at Ma Nolan's Irish Bar
If the thought of Christmas without a traditional lunch, in friendly, lively company and homely surrounds breaks your heart, then look no further than Ma Nolan's Irish Pub in Vieux Nice.
The Christmas menu runs for several weeks and you can choose between a 2 course meal for 19.90€ or three courses for 25.90€. Main courses include turkey and ham, salmon or vegetarian nut loaf. Live music and plenty of brandy and Baileys in the stock to get you into the festive mood.
Check out theirs Christmas menu here or on their Facebook page or drop by the bar at 2 Rue Saint-François de Paule.
Christmas Breakfast in Hard Rock Cafe Nice
For the very first time, Hard Rock Cafe Nice invites the visitors big and small for the traditional American breakfast buffet on Saturday 21 December 2019 from 09:30 to noon.
The program includes doughnut and snow ball making workshop, 'Frozen' show, meeting with Sata Claus and his team, gifts and surprises.
Tickets:14.95€ for children under 10 years, 19.95€ for adults and +10 years, free for children under 2 years old
Book your tickets online on following link https://shop.link2ticket.nl/S/Event/A1hXcUMFfV9FVA/A1hXcUMFdllFVg
Nutcracker Ballet
For some people, a Christmas without the Nutcracker just wouldn't be Christmas! A beautiful masterpiece by P.I. Tchaikovsky that celebrates a magical world of young children, parents, toys, Christmas trees, snowflakes and candy, with authentic music, choreography and the eternal fantasy of Christmas coming to life on stage thanks to the Moscow Classical Ballet, unfortunately it is a little past Christmas this year, on the 16th of January 2020 in Acropolis, Nice.
Tickets start at 39€ Adult . Book your tickets online on here on Ticketmaster
Monaco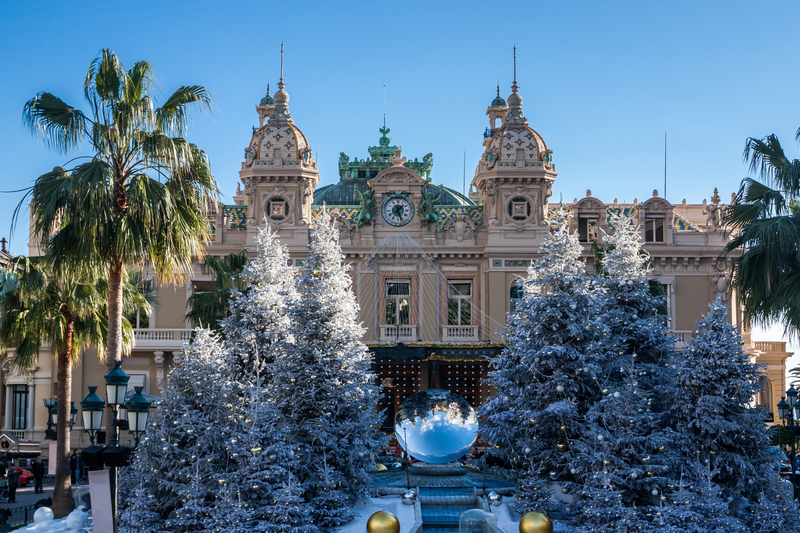 Christmas Village
Starting on the 6th December 2019, don't miss out on the 20th edition of the Monaco Christmas Village, 'Village de Noël', the main winter event in Monaco, which will delight and entertain attendees of all ages for one month. Every year, the Christmas Market embraces a new theme, with 2019 being 'White Christmas.
Sweets, gift ideas and crafts will fill around 25 wooden chalets along Port Hercule on Quai Albert 1er. The market is open Sunday to Thursday from 11H00 – 21H00, Friday and Saturday from 11H00 – 22H00, on 24th December 11H00 – 19H30 and the 25th of December and the 1st of January from 14H30 – 21H00. Get ready to experience a number of magical moments of great entertainment, original attractions and Santa Claus workshops, all accompanied by Christmas carols.
This time of the year, the municipality will tickle all your senses with a magnificent show of lush lights and decorations that are changed annually. Casino Square becomes a forest of Christmas trees filled with thousands of warm pulsing illumination.
A view from a Ferris Wheel over the city's fairy tale lights, yachts and the princely castle towering high above the city, where else could visitors experience such a regal experience at a Christmas market? You don't need to be in the snow-covered Alps to experience a true winter romance!
The famous swimming pool Stade Nautique Rainier III will turn into 1000㎡ ice skating rink with a smaller option for younger kids (parents can accompany their children free of charge), €7 per person for the main rink, kids under 5 years go free.
It will open on 6th December 2019 until the 1st of March 2020, Monday to Thursday from 11H00 – 18H00, Friday and Saturday from 11H00 – 23H00 and Sunday from 11H00 – 21H00.
A little extra added bonus for the families this year are free performances of the Moscow Circus on Ice that will take place Saturday, December 21st at 5:30 pm and 8:30 pm.
Every Sunday the ice rink will be transformed into a circuit for radio controlled cars between 8H00 – 12H00, free of charge for everybody.
Try Le Pan Natale, an almost forgotten monegasque tradition slowly finding its way back. It is a round loaf decorated with nuts and olive branches. In pre-Christmas period you can purchase it in the aid of a local charity.
Cannes
Christmas Market Cannes
The turning on of the Christmas lights on the 30th of November 2019 at 18.00 will mark the official beginning of this year's Christmas season in Cannes.
The annual Christmas Market on Les Allées de la Liberté is a joy for the senses, heart, mind and mood. Fifty lovely stalls will be selling all you need for Christmas, from toys to jewelry, traditional Christmas decorations, gourmet food, mulled wine, oysters and champagne.
Opening hours: Sunday, Monday, Tuesday, Wednesday and Thursday from 10h00 to 21H00 and Friday and Saturday from 10H00 to 22H00.
Children can meet Santa Claus and his helpers in his chalet on Saturday 30th November from 17H00 – 21H00 and on December 1st, 7th, 8th, 14th, 15th, 21st, 22th, 23rd and 24 December 2019 from 14H00 to 18H00.
The Christmas Parade will take place on Rue d'Antibes on 24th December at 15H00.
The little ones will be thrilled to enjoy 400 sq m Ice rink free of charge for children aged 4-10 years between 10H00 -13H00. Adults can test their skills onwards for a small fee €3, including the hire of the skates but bring your own gloves. The ice rink is opened every day from 13H00 to 21H00, on Friday and Saturday till 22H00.
The highest Christmas tree in Alpes Maritimes – whooping 33m high, will be displayed on the forecourt of the Palais des Festivals and Congresses.
Christmas Service at Holy Trinity Anglican Church
For a very special, spiritual evening, join the Holy Trinity Anglican Church services in English. The church is located on Rue du Canada, behind Carlton Hotel.
22nd December at 19H30 – Christmas Carol service followed by mulled wine
24th December at 16H00 – Children's service and at 23H30 Midnight Mass
25th December at 9H00 – Christmas morning service.
New Year's Eve Fireworks – Cannes Bay at midnight
Tuesday, December 31st, the city is offering 20 minutes of an exceptional pyrotechnic show on the theme of Cannes is Magic!
Luceram
You might have never heard of this small medieval village, but when it comes to the festive season, it is one of those, off the beaten track destinations, where you might find the true spirit of Christmas. How come?
The local folks put all their efforts into decorating the village, creating over 450 nativity scenes (crèches) scattered through the whole place. And the village has only around 1200 habitants! That's a real community effort!
Get a map in the tourist office or at the information desk as you get off the bus and the treasure hunt for the crèches can start. There is no corner which is not decorated, look everywhere, in every doorway, balcony, window, alleyway, plant pot, in village fountains and ancient wash houses and you will find crèches of all sizes, from the simple to the most sophisticated.
A small Christmas Market is held in the village on Sundays 15th and 22nd of December. It is focused on locally produced food, arts and crafts and the tradition of 13 desserts. If you're visiting with children, they'll love the pony rides and Père Noël visits.
Christmas Concerts are held in St. Marguerite Church on Sunday 14th and 21st at 14H30.
How to get there?
The easiest way is of course by car, if you have one rented. Follow D2204, the journey takes around 35 mins from Nice.
By bus the number 340 or 360 from Nice Vauban bus depot, The journey takes about 50 minutes. Get your tickets with bus driver for 1.50 €. You can check the bus schedules on following links.
 Or if you wish we at Reservation Riviera can provide a private chauffeur for the return journey, simply email us for more information on dermot@reservationriviera.com 
Valbonne
Christmas Market Valbonne
The village of Valbonne will be transformed into an enchanting winter wonderland as the traditional Christmas market kicks off on the 21st of December 2019 for 4 days in the Place des Arcades. Why Valbonne, over the other picturesque villages in the area? There is a real Christmas ambience, welcoming, good humoured and cordial surroundings, the atmosphere is just a very unique place to be.
Over 100 stalls offer visitors a wide range of lovingly crafted advent decorations, Christmas gifts, local food products, culinary treats, as well as selected wines, champagne and mulled wine. There is an excellent entertainment programme for young and old alike.
Magic shows, children's workshops, musical parades, carousels, Père Noël along with his helpers, petting farm and much more will put a gleam in children's eyes and your own inner child might make an appearance here as well… Don't miss on the Fire spectacle inspired by the legend of Odysseus at 18H00 and on Christmas Light Parade also held on 22nd at 17H30 and 19H00 and on 23rd at 14H00, 16H00 and 17H30.
 Valbonne Christmas Art Fair
A Christmas Exhibition in Salle Saint Esprit from 6th – 24th 2019 brings together 20 carefully selected artists showcasing their original works of art such as paintings, sculptures, Raku ceramics, jewelry, maps, photographs… all very budget friendly. A perfect place to pick something different for your loved ones to unwrap this Christmas!
Fire Arts
On 21st and 22nd of December a team of blacksmiths will work on a creation of 3 metres high Christmas tree, then decorated by glassmakers ad ceramists. Creative workshops for children such as pottery, glass blowing and raku firing will be held around this affair between 10H00 – 21H00.
For the full schedule click on the following link: http://www.recreanice.fr/sites/default/files/node_images/programme_2019_0.pdf
When in Valbonne we highly recommend stopping by Roots Bar for a wonderful warm Christmas welcome and some festive cheer. Roots can be found at 4, rue de la fontaine, Valbonne
Other places and events to check out this festive season
Antibes and Juan les Pins
The Christmas Market in Esplanade du Pré des Pêcheurs, Antibes – 29.11. 2019 – 05.01 2020. Opened every day from 10H30 to 19H30, exceptional closing on 25th.
The ice rink in Antibes – 250 sq meters ice rink is free for kids between 2 – 10 years old. 3€ per hour for the rest. Bring your own gloves. Open from 10H30 to 19H30 every day except 24th and 31st, exceptional opening on 25th at 14H00.
'Les Danses de l'Eau' – a fountain show spouting to the rhythm of music and lights every 20 minutes from 17H30. On Place de Martyrs de la Résistance. From 14th December – 5th of January.
On Friday 13th December 2019, The Riviera International Singers will be performing a charity Christmas Concert in aid of Antibes SNSM lifeboat. An evening filled with carols, traditional Christmas music and gospel songs starts at 20H00. Tickets will be available at the door 30 min before the program starts. Adults 12€, children under 12 years 6€.
Yule Log Party – Fête de la Bûche – 15th December at 17H00, Place du Safranier, Antibes. Traditional tasting of the Yule Logs made on the spot. Yule log is a traditional Christmas cake served in Provence.
Traditional arrival of Santa Claus on the water skis – 22nd December at 10H30, Juan les Pins – Promenade du Soleil Beach.
Watch the fireworks in Juan les Pins on 1st January at 18H30.
Saint Paul de Vence
Christmas Market – 7th December from 11H00 – 19H00 at Place de Gaulle. Crafty stalls selling local handmade products such as candles and tea lights, hand-woven clothes, bags and jewelry, Christmas decorations, teas, dried fruits, olive oils, biscuits…. Entertainment for children all day long, inflatable castle, Christmas decoration workshop, games and Santa will be present too! Christmas carols sung by children's choir at 11.30
Truffle Market – 22nd December 2019 from 9H00 – 18H00.
Large local market that is all about truffles – 'the diamonds of the kitchen', often used in French Christmas dishes. You'll get to meet around twenty producers of truffles and their extraordinary truffle sniffing dogs from Alpes Maritimes, buy some truffles, taste truffle dishes, watch the auction of the biggest truffle of Provence at 11H00 (terrace of the La Colombe d'Or Hotel), get on the 'truffle' guided tour at 15H00…#mustlovetruffles.
Both markets are the go-to place to meet small, independent business entrepreneurs to shop an array of unique artisanal products. Saint Paul de Vence has a compact historical centre, a true delight just to wander around at will any time of the year. Christmas lights and its unique romantic atmosphere make it even more special. (Read more about Saint Paul de Vence in our Guide here)
Menton
Tumble into a magical winter wonderland in the centre of a fairytale city of Menton. 
The Christmas market is running from 7th December 2019 – 5th January 2020 and this year's programme themed 'Nutcracker' offers no shortage of things to see and do. There is no better way to soak up the festive atmosphere!
Younger kids will love the magical elf walk, reindeer trail or a walk in the footsteps of the three kings, plentifull workshops, donkey and carriage rides, games and animations.
The stalls are selling everything from local and bespoke products and gifts to tasty treats, so visiting the market is a must this year.
Forecourt of the Cocteau Museum turns into 500m2 ice rink – hire a pair of skates and spin across the ice behind a gorgeous backdrop of the glittering city. Opened every day between 10H00-19H00, on Fridays and Saturdays till 22H00.
 There is a free screening of 'The Nutcracker and Four Kingdoms' movie on Wednesday 18.12.2019 at 14H30 in Francis Palermo Theater , Palais de l'Europe. 
Check out the Ice sculpture show on the 23rd of December at 15H00 with triple world champion of ice carving, Mario Amegee.
Visit Santa's Grotto to meet the man himself on 24.12.2019 between 10H00-12H00 and 14H00-16H00.
On the 5th of January brave souls can take a 'refreshing' (read icy cold!) dip / New Year's swim in the Mediteranean. Spectators are more than welcome to cheer the swimmers on, lots of fun and laughter guaranteed!
Read the whole program of this year's Christmas entertainment on http://www.recreanice.fr/noel-menton-animations-enfants-famille-programme