08 Sep

Churches of Nice

Religious buildings are so much more than a place of worship and prayer, they offer sanctuary, solitude, moments of peace and meditation in safe surroundings. Furthermore, each has its own story to tell. Most ancient churches are architectural beauties with incredible interior design, full of exquisite art as well as the rich histories.

Here you can read through our list to discover the most magnificent churches in Nice, you will learn how to gather with the community and join one of the regular services or pop in for a quick visit to admire breathtaking structures .
CATHEDRALE SAINTE REPARATE (NICE CATHEDRAL)
3 Rue Sainte-Reparate, 06300 Nice, Tel: 04 93 92 01 35
Cathedrale Sainte Reparate, also called Nice Cathedral, with its graceful Baroque style perfectly integrates into Rossetti square and the surrounding buildings in the Old Town.
The present building was established atop foundations of a parish church during the last half of the 17th century. The cathedral has been built upon and added to over the years – the bell tower that can be heard across the town is from 18th century, the baroque style facade is from 19th century and the apse was built in 1903.
The interior is equally exquisite as the exterior. It features 10 separate chapels dedicated to a particular religious theme, marble and stucco decorations, the high windows, the choir and of course the main altar dedicated to the patron saint, Saint Reparata herself.
The legend states that Saint Reparata was a Palestinian teen who was not willing to give up on her Christian faith. When her torturers failed to convert her, she was executed, denied a Christian burial and sent out to sea on a  raft to rot and be eaten by seabirds. The guardian angels guided her raft across the Mediterranean sea to the bay of Nice where her body arrived unmarked and was declared a miracle. That's how the bay of Nice became named the Bay of Angels.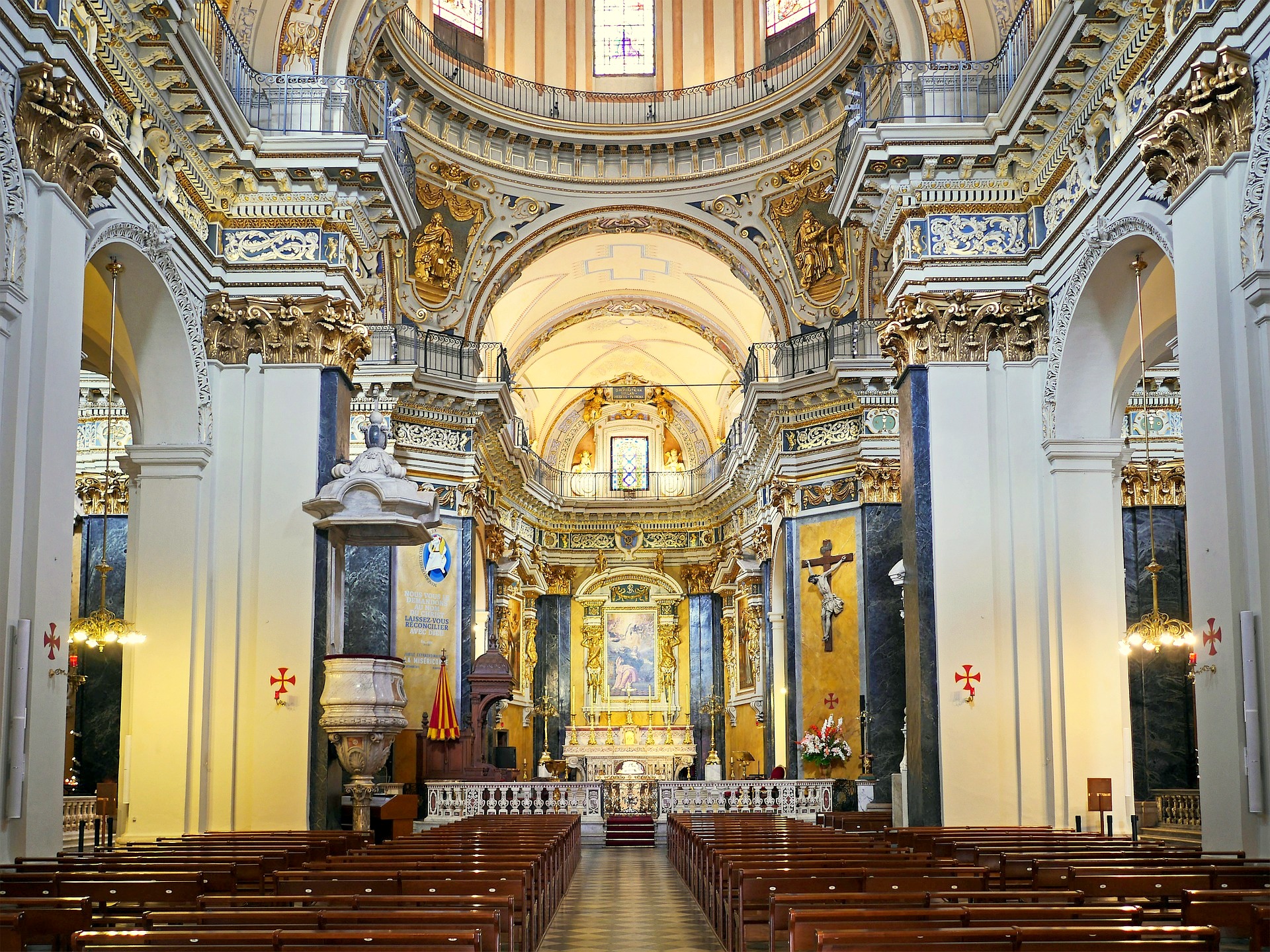 Opening Hours
Tuesday – Friday 9.00 – 12.00 / 14.00 – 18.00
Saturday 9.00 – 12.00 / 14.00 – 19.30
Sunday 9.00 – 13.00 / 15.00 – 18.00
Masses
Tuesday – Friday at 10.00, Saturday at 18.30, Sunday at 10.00 and midday (in Latin)
There are occasional events that take place in the Cathedral including holiday concerts, special masses, funerals and more. Visit their website for more information.
EGLISE DU GESU – SAINT JACQUES (CHURCH OF JESUS – SAINT JACOB)
12 Rue Droite, 06300 Nice, Tel: 04 92 00 41 90
The magnificent masterpiece of Baroque style, the Eglise du 'Gesu' (Gesu means Jesus in original Nissart language) is worthy of a look for its architecture alone.
Originally a chapel belonging to the Jesuits, the church was built between 1612 and 1642. Richly decorated with many ornaments, stucco, false marble, cherubs and medallions, it is a true architectural treasure. The church has one of the most beautiful facades in Nice, in its beautiful blue it dominates the small square that bears the same name.
Masses
Monday at 10.00, Wednesday at 8.00 and 10.00, Thursday and Friday at 9.00, Saturday at 9.00 and 11.00, Sunday at 18.30.
EGLISE SAINTE-RITA (CHURCH OF SAINT RITA)
1 Rue de la Poissonnerie, 06300 Nice, Tel: 04 93 62 13 62
The Eglise Sainte-Rita is one of the oldest churches in Nice, originally built in the 10th century. A rather dull and modest exterieur surprises its visitors with an endearing yet unexpected interior, especially because of its rosy glow, pink marble and crystal chandeliers. Pay particular attention to the paintings, them alone are worth the visit to this church!
The chapel is dedicated to Saint Rita (patron saint of the lost causes) and celebrations in her honor are held on May 22nd each year when roses are blessed to aid in the recovery of the sick. There is a small boutique opposite of the church selling religious artifacts, books, jewelry and unusual souvenirs.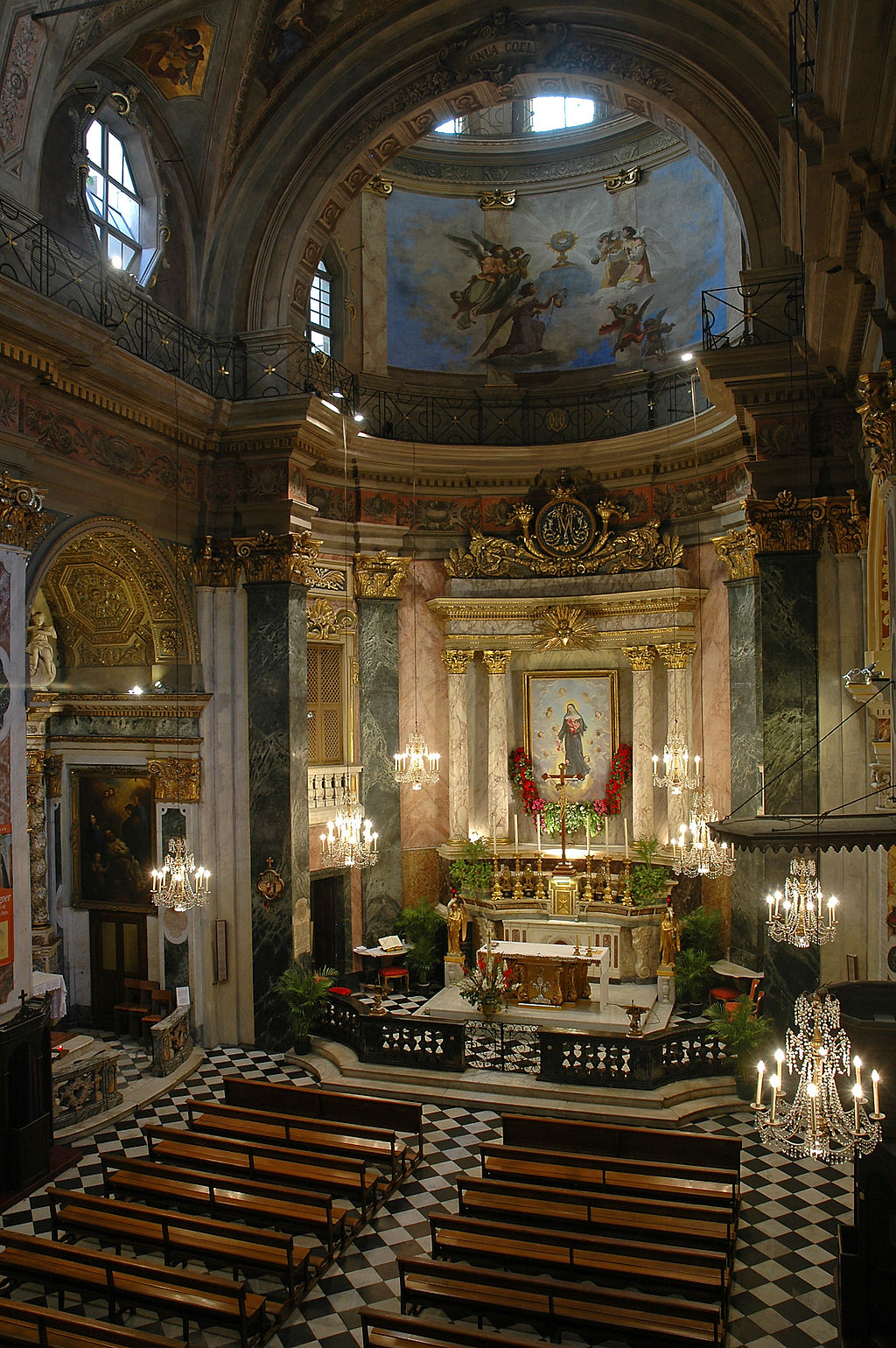 Par Oeuvres de Sainte Rita 
Masses
Saturday at 16.30, Sunday at 9.00, 11.00 and 16.30
Opening Hours
Monday to Saturday 7.00 – 12.00 and 14.30 – 18.00
Sunday 8.00 – 12.00 and 15.00 – 18.00
MISERICORD CHAPEL (CHAPEL OF MERCY)
7 Cours Saleya, 06300 Nice, Tel: 04 92 00 41 90
Standing right in the middle of Cours Saleya, Misericord Chapel is like a patron saint of the market sellers, keeping a watchful eye over their good fortune and business.
The history behind the chapel dates back to the 18th century, it was built between 1747 and 1770 on the site of a former salt storehouse, it later became a theatre and in 1828 when the high brotherhood of Black Penitents moved in, finally a chapel. There are 4 brotherhoods in Nice, the Black Penitens were founded in 1522 and have always consisted of the richest people from Nice. They were intended to assist those sentenced to death, a role that has disappeared today. However, a role they always had and are still playing today is to provide religious services and Christian burials for the poor.
This chapel's highlights are undoubtedly the two 15th century altarpieces by Miralhet and Bréa potraiting Virgin Mary protecting Christians under her coat and frescos on the ceiling giving an impression of the sky above and described by a local priest as a route to heaven.
Without an exaggeration this is one of the most beautiful Baroque chapels in the world and true 'chef-d'œuvre' of Niçoise Baroque architecture.
Masses
Sunday at 11.30
Opening Hours
Times when the chapel is opened are very scarce. Normally it opens on Tuesday afternoon for a couple of hours and for Sunday mass, but keep an eye on the door when passing, it can be randomly opened on any day.
BASILICA NOTRE – DAME
2 Rue d'Italie, 06000 Nice, Tel: 04 93 88 73 63
Right in the middle of the main shopping street Jean Medicine, not far from the train station, it is hard to overlook this mini version of the famous Notre-Dame Cathedral in Paris.
The grand white stone, Neo-gothic building from 19th century is dominated by two square towers. Three porches line the facade of the church and a large rose window above the entrance portrays the Assumption of Mary. It doesn't have as much history as some of the other churches in Nice but is still a very popular place for visitors seeking service or just beautiful architecture.
It hosts some amazing concerts and recitals as well as music festivals during summer and winter.
Masses
Monday at 18.00, Tuesday to Saturday at 11.00 and 18.00, Sunday at 9.00, 10.30 and 18.00.
During the months July and August there are no masses at 11.00 during the week.
Opening Hours
Everyday 8.30 – 12.00 / 14.30 – 19.00
How to get there
Take a tram from the nearest tram stop direction to Henri Sappia and exit on the stop called Jean Medicine. Turn left as you exit the tram, cross the tram lines and keep on walking for a bit.
THE SAINT NICHOLAS RUSSIAN ORTHODOX CATHEDRAL
Av. Nicholas II.- Bd. Tzarewitch, 06000 Nice, Tel: 09 81 09 53 45
Saint Nicholas Cathedral's first stone was laid in 1903 and it was finished only nine years later. The construction went on under the patronage of Tsarina Maria Feodorovna and her son, Tsar Nicholas II, who paid for most of it from his private funds. The cathedral is the largest Russian orthodox place of worship outside of Russia and represents Russia in her glory with an abundant traditional architecture.
The inside contains a large collection of icons, decorative woodwork and items of vast historic value moved from Russia to Nice during the troubled times of the Russian Civil War.
Dress respectfully, as you would in any religious place, men are barred if bare chested and females if wearing miniskirts.
Masses
Saturday – Vigils at 17.00, Sunday – Divine Liturgy at 10.00
Opening Hours
Every day 9.00 – 18.00
The access to the church could be denied or limited for the celebration of the sacraments, normally from 12.00 to 14.00             
How to get there
Take tram line 2 to the stop called Alsace Lorraine. Once you exit from the underground station to Boulevard Gambetta, turn right and keep on walking for about 600 meters till you reach Boulevard Tzarewitch. Turn left onto Boulevard Tzarewitch. and walk for another 100 meters.  Look for the signs for Eglise Orthodoxe.
Alternately take bus number 11 from Alsace Lorraine and hop of 5 stops later on the stop called Tzarewitch.
SYNAGOGUE DE NICE
7 Rue Gustav Deloye, 06000 Nice, Tel: 06 24 68 66 69
The Judaic temple of Nice was built in 1885 in a Byzantine style, designed by Paul Martin, and inaugurated in 1886. The structure stands out by its stone façade and by the rosary window on top of the entrance. The synagogue has a series of beautiful stained glass windows called 'The Song of the Prophets' attributed to the famous glassmaker Theo Tobiasse, Israeli born who moved to Nice in 1950.
Synagogue is located 200 meters from Place Massena.