17 Jan

Cycling the Côte d'Azur

Some cities are simply suited for cyclists, and Nice ticks all the boxes and is ready-made to carter for the two wheel enthusiasts.

With its proximity to the international airport, Nice, makes it easy even for a short cycling break. This makes it easier if you decide to bring your own bike, however if you fancy just a day or two of riding while holidaying here, there are plenty of options to rent a road bike for a reasonable price. (Contact our 'Nice Experiences' Concierge to arrange this for you).

The weather is mild, with average temperatures of 13 degrees in January, and 27 degrees in July and August and fairly low number of rainy days, which means that most roads are opened all year round even up to 1000 meters above the sea level.

There is a great variety of sleek and well maintained roads, hilly in parts and quite flat in others, providing a perfect mixed terrain for almost any level of cyclist, from the pros to the amateur folks. Whatever riding you want, it is all there for you.

If you plan on doing more than just ride your bike, Nice not only offers both relaxed environment and plenty of "off bikes activities" with an easy access to cultural parts, other sporting activities and plenty of nightlife. And on the flip side, an effortless ride out of the city will bring you to some amazing climbs which in turn will just make you want to explore more. Even the local drivers are somehow patient and understanding, as it is a hugely popular hobby here, so with all these things in mind, can you ask for more?

The Côte D'Azur offers a sublime array of landscapes and incredible scenery that cyclists continue to rave about for years after their first visit. If you haven't been here on your cycling holidays yet, you should certainly consider it, if you have, you will be back. Get to know the region's topography through your favourite way of seeing the world – on two wheels!

Here we give you a small glimpse of the some of the most popular climbs and segments around Nice but there are plenty more opportunities to truly test yourself on the bike in this beautiful part of France.
Nice – Menton Via Monaco
From Nice – Length 30 km
This is a pretty straightforward route especially if you prefer less climbing on the day or if you are visiting in the core of winter time and the conditions in the higher elevations are too rough (doesn't happen very often but it happens). If cycling in the summer, there are plenty of stops to take a dip in the Med along the way!
The climb starts in the Port of Nice, which in fact is the hardest part of the whole route as the road is ascending steeply onto the Boulevard Carnot / M6098 and seems endless. Once past this part you can start smiling again.
After picturesque Villefranche sur Mer you will have an option of a short detour (a loop) through the Cap Ferrat peninsula, home to some of the most expensive residences in Europe. It is pretty and it takes you off the busy main road for a bit, so definitely worth it.
Back to the start of the detour, follow the M125 in direction of Beaulieu sur Mer that will eventually reconnect with the original M6098 that you were on before. Pedal along the coast through Èze sur Mer (not to be mistaken with Èze village which is located high above it) and Cap d'Ail.
Next – Monaco, and if you want to avoid its busy streets and feel like a bit of a climb, opt for La Turbie with the average gradient of 6%, and a maximum of 9.3%. Just before reaching the town centre of Cap d'Ail turn left to Chemin des Oliviers, your land mark will be the church Eglise Notre Dame de Cap Fleuri located on the other side of the road. By taking this road you will be rewarded by absolutely stunning 360° degrees views of the entirety of the Principality and surrounding coastal areas from the Tête de Chien (Dog's Head) summit 550m above the sea.
However, if you decide to go via Monaco, here is the deal; Monaco is home to many cycling pros, with Team Sky having a permanent base here since 2014. You can cycle parts of the Grand Prix circuit and admire its highlights from your saddle (sorry but we doubt you will be allowed in your lycra shorts and cycling shoes to the Casino or The Palace). Cycling through Monaco requires passing through the tunnels, please take caution and respect the rules of the traffic. Keep your eyes on the signs for Menton, it is a small place but one can get easily lost.
The descent into Menton is short and sweet. Here you can decide if you want to return the same way back to Nice, challenge yourself via Col de la Madone or continue perhaps across the Italian border to Sanremo, another iconic etape of the cycling race Milan to Sanremo.
Col de la Madone de Gorbio
From Menton : Length 13km, Average gradient 6,7%, Max gradient 10%, Elevation gain 875m.
Once you leave Menton, continue onto D6007 following the signs for Madone and within 10 minutes you'll find yourself already going uphill. It is not a very hard climb by any stretch, but not to be underestimated either, the effort will be just like climbing an Alpine pass further north. Thanks to its south facing slope, the rides are good even in the winter, but it's the setting and scenery that make it very special, if the climb doesn't take your breath away, hopefully the views will.
A quick pit stop in Saint – Agnès village is a must. It claims two things…being the highest village on the Mediterranean coast (726m above the sea) and also the most beautiful. The cobbled streets are too narrow for cars (be careful when pushing your bike as they are very slippery) and its architecture represents the true spirit of this region. The hospitable villagers are always welcoming to cyclists and seem to live in their own world here, high above the clouds that often surrounds the place.
About 5 km above Saint – Agnès, the vegetation changes drastically, it becomes sparse and wind beaten and the road becomes almost a single line passing through dark tunnels followed by tight swinging switchbacks. The steady gradient of around 4-5% changes to around 8% towards reaching the summit. End with a final push to the top and you will find a simple wooden sign informing you that you reached La Col de la Madone.
Head back to Nice passing Peille village and through La Turbie just above Monaco. From La Turbie you can return back to Nice via D2564 through Èze village or continue down to Cap d'Ail following coastal road. The good news is, it is all downhill.
Lance Armstrong, who once owned a villa in the hills above Villefranche sur Mer, described in his book 'It's Not About the Bike' how he used to test his final form on this stretch before his "wins" on Le Tour de France. If he was able to do a good time up la Madone he "knew" he was going to win the race. Chris Froome, the three time winner of the Tour de France put it beautifully in his autobiography, 'The Climb':  "The Col de la Madone de Gorbio is a fallen woman. Her name is tainted by the sins of a former lover…"
Today, this 'celebrity climb' is usually on the bucket list for cyclists who visit the area, and still favoured by many pros that live locally.
Col d'Èze
From Nice : Length 9.7 km, Average gradient 5%, Elevation gain 505 m.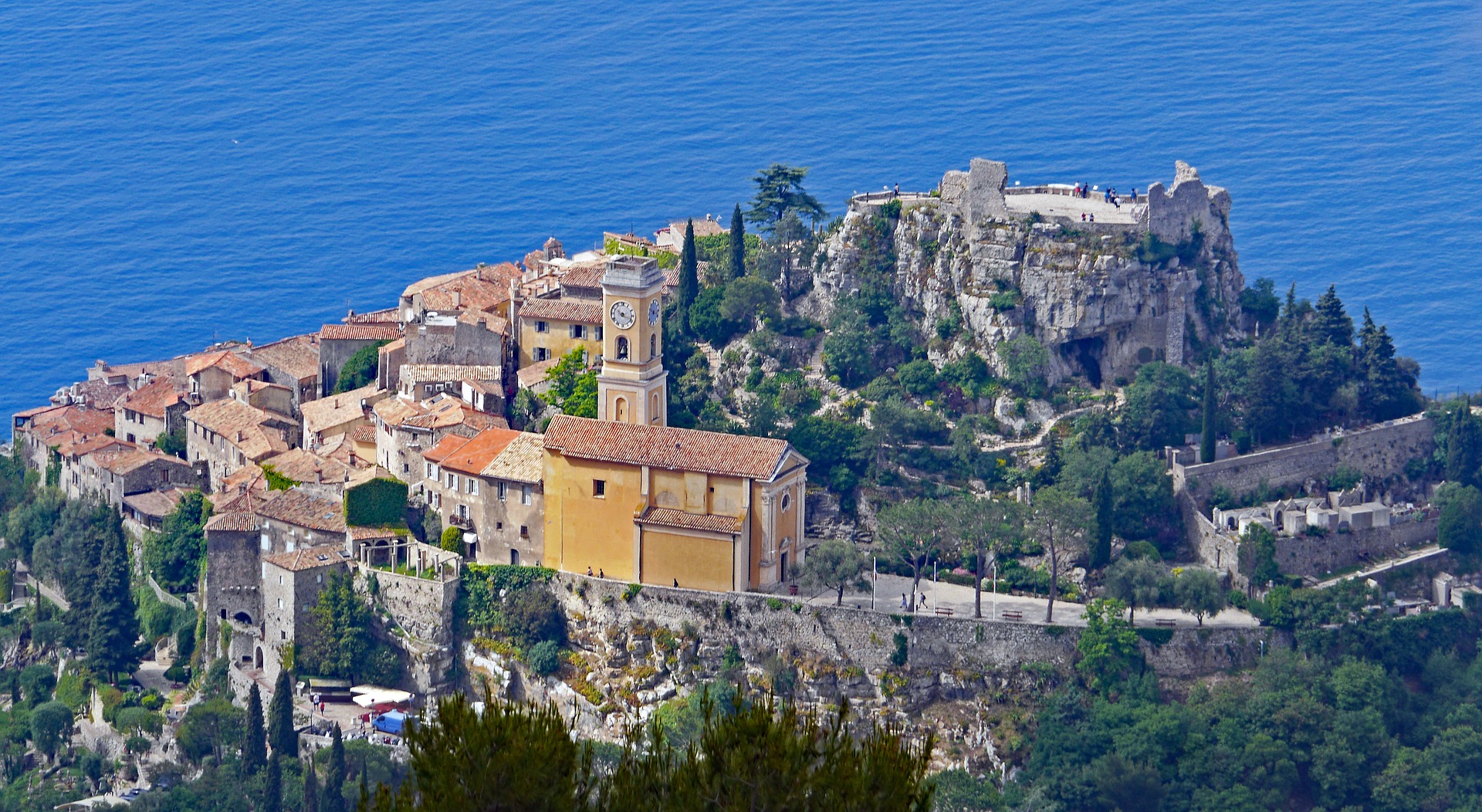 One of the region's most loved, iconic and popular climb thanks to a traditional finishing stage of Paris – Nice race that is commonly known as 'Race to the Sun' (as it runs early in March, typically starting in bitterly cold and crisp conditions in Paris before reaching the uplifting spring sunshine on the French Riviera).
The route and its main climb starts right from downtown Nice – Riquier, precisely from Boulevard Bischoffsheim. Here you join M2564, Grande Corniche up towards the hills, passing the Nice Observatory. Grand Corniche is a legendary road full of history. Built by Napoleon, used for filming Hitchcock's 'How to Catch a Thief' and James Bond 'Goldeneye', it was also a place of tragic car accident of Princess Grace Of Monaco.
This is not an easy one, starting at average gradient of 8% for the first 3 km. The climb is divided into four parts, gradually undulating all the way to the Èze village. Your hard work on the hills will be rewarded with best views of the city and, rocky slopes covered with succulent plants and bays lining Mediterranean coast. If you are not in rush, stop, breathe and enjoy this scenery as it is truly special.
Here you can opt to continue to Col de la Madone, another local cyclist's favourite, via La Turbie and Menton.
Col de Turini
Loop trip – Nice – Escaréne – Sospel (via Col de Braus) – Nice (via col de Turini) Length 133 km.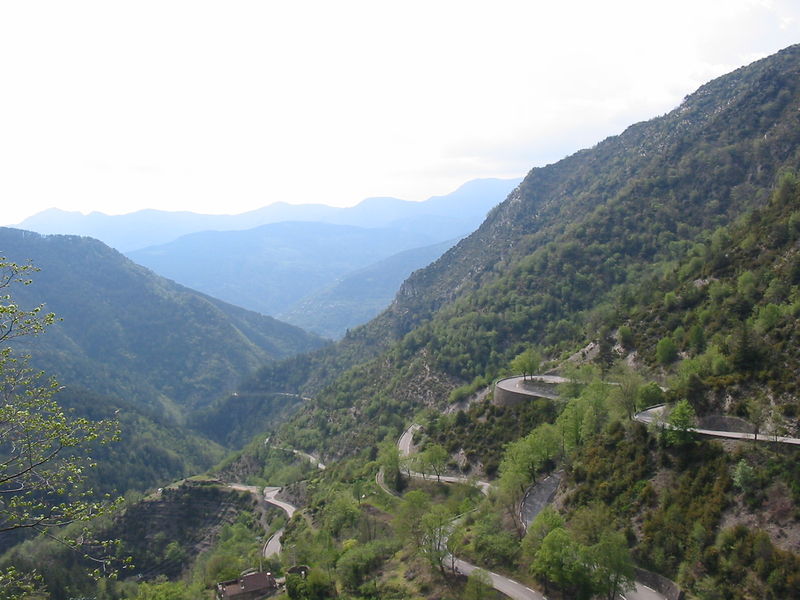 Climbing Col de Turini on your bike means reaching the highest point in the area within a reasonable distance from Nice. Although it has featured in the Tour de France in 1948, 1950 and 1973,it is more famous for the Monte Carlo Rally. It features in a video game and on the list of the 10 Top most wicked roads and mountain passes, according to Top Gear. And once you climb it you will understand why.
It is not for those with weak legs but it is a ride you are going to rave about for years and if your fitness allows, one you shouldn't miss. It suits mostly to cyclists looking for a longer and more Alpine style terrain, sometimes with rougher surface, sometimes painful but always rideable.
The weather is notoriously moody in this part of Préalpes, so it is essential to pack smart. Depending on the time of the year, the right gear will include layers of warm clothes but the rain jacket is a must all year round as the downpours often appear even in the middle of a sunny day.
The main rally takes place in January but make sure there is no other sub event that might cause the road to be closed.
This route that covers the first 38 of the total of 133km starts near the Port of Nice at Corniche André de Joly (roundabout with petrol station Station des Oliviers). Follow the signs for Èze / Col de Villefranche to join the Moyenne Corniche. Once you reach the bottom of Èze village follow the Grand Corniche direction to La Turbie. Cycle through the town leaving the Mediterranean behind your back. Your next destination to reach will be Peille village, a great reward for your efforts, you'll follow a steep slope of heavily undulating road descending to La Grave de Peille. Here, surrounded by pure nature, a big cement plant might come as a surprise – this is where the cement loading on the big boat in the Port of Nice comes from. From here take a climb to L'Escaréne. The medieval village of L'Escaréne sitting on the altitude of 345m above sea level was a significant staging post on the "Route du Sel" between La Provence and Le Piedmont, on the Nice-Turin road.
L'Escaréne to Nice
L'Escaréne to Sospel via Col de Braus. For the next stage of 24 kilometres you will be treated to nature's theatre at its best and jaw dropping scenery. The main climb from L'Escaréne peaks up to a 6.3% gradient in the first 10km. There are regular road signs informing you about the gradient and remaining kilometers (sometimes is better not to look at them). The regular hairpin filled ascent and the road carved into the mountainside makes this road feel almost too small but thankfully it is light on traffic. Don't forget to look back and see what you've just achieved, from atop it looks quite magnificent. On the summit, there is a small restaurant/bar with couple of wooden benches on a terrace and a memorial to René Vietto's, the famous French road cyclist. Next you'll enjoy the fast descent to Sospel, it is full of switchbacks and sweeping turns.
Sospel to Nice via Col de Turini. This last stage is 73km long, passing via legendary Col de Turini. Sospel is a small friendly town, a good place to stock up with water and snacks before the last and longest etape of your cycle tour.
Col de Turini sits at 1604m above the sea level. The gradient can go from 4% to 7% to 9% so averages are meaningless. You are looking at 24km of solid climb to the top of the summit with an altitude gain of 1250m. Reaching the first landmark – Chapel de Notre Dame de Menour followed by false flats signalises that you are half way up.
After the village, Moulinet, the road builds up again for the second part of the climb. The road becomes rougher and the gradient gets higher as you enter a thick pine forest – a sign of high altitude. Press on for a great reward.
There is a small ski resort on the top of the summit, so you'll find refreshments in the local hotel restaurant or local cafe. There are 50 more kilometers ahead of you but the good news is, there is almost no climbing involved! Follow a straightforward descent through the pine forest towards Peira Cava, Lucéran town and some of the most beautiful natural scenery will unfold right in front of you. After Lucéran continue back to Nice through the valley.
Col de Vence
Length from Nice 35 km,  Average gradient 6.6%, Max gradient 9%, Elevation gain 643m
One of the local's most appreciated climbs, often featured in Ironman and as a final climb in the Paris to Nice race before darting down to the finish at Promenade des Anglais.
There are several options for this bike route, following our itinerary is one of many possibilities (but favoured by locals). Benefit from the cycling path along the Promenade Anglais all the way from Nice to Cagnes-sur-Mer and turn right up to Avenue General Leclerc (a good landmark is the Banque Populaire and sign for Église Notre Dame de la Mer). If you miss this turn, continue and turn right after the bridge onto Allé des Bouleaux. Follow the signs for Vence and the M336. On the roundabout Place Marechal Juin, take the second exit onto Avenue Victor Tuby and look for a sign for Col de Vence. Once past all the urban areas you will really start to enjoy yourself.
You will soon find yourself on an open road heading up to the gigantic plateau, surrounded by scarce vegetation and waste rocky landscapes. This also means you get plenty of sunshine which might be beneficial in the cooler months but taken with caution in the summer.
The road is in perfect condition and the gradient is pretty regular, which will let you settle into a rhythm, however you will need good legs to power your way to the top. Make sure to take in the enigmatic feel of solitude and the almost eerie stillness of the natural surroundings. This place is legendary for UFO sightings where planes crashed and cars break down without any reason. Mysterious symbols engraved into the rocks (left by a sect trying to make contact with aliens who settled here in 1979) are still to be found if you look little harder.
The views are the best just before reaching the summit as you get to see most of Côte d'Azur, from Italy to Cannes and on a very clear day even Corsica. Atop, you will find a perfect pit stop to refresh – a horse ranch "El Bronco" that has a little bar always welcoming cyclists.
You have several options on how to return back to Nice.
You can opt to go through marvellous town of Saint Paul de Vence (our recommendation) from where you follow D7 to La Colle Sur Loup and then the D436 back to Cagnes sur Mer.
The longer option to get back (50 km) leads you in the direction of Coursegoules, through Bézaudun-les-Alpes, Bouyon and down to le Broc, Carros, Gattières, Saint Jeannet village and back to Saint Laurent du Var, from where you easily find your way back to Nice.