03 Jul

Nice Jazz Festival

Set in the unique site of the beautiful Park Paillon, just a few steps from the Mediterranean Sea, is a venue that every year becomes the place for fans of all jazz related music and the greatest party of the summer. Living legends rub shoulders with the promising next-generation of artists, bursting with creativity and passion for music.

Video courtesy of Nice Ville

HISTORY OF THE NICE JAZZ FESTIVAL

The Nice Jazz Festival can proudly call itself the first ever jazz festival in the world. It was a historic moment as jazz finally reached a broad audience in France that in 1948, Hugues Panassié, the president of the Hot Club de France (French organization dedicated to promotion of "traditional" jazz, swing and blues), who wanted to follow on from the success of the first Film Festival in Cannes in 1946.

It was held from 22nd – 28th of February 1948 in the original venues of the Nice Opera, Municipal Casino on Place Massena (does not exist anymore) and the final night at the large halls of Hotel Negresco. The last night at the hotel ended at dawn with a red hot jam session of songs by Suzy Delair and Yves Montand. The festival featured three American and three French jazz orchestras with Louis Armstrong and his All Stars as headliners along with other big performers such as Django Reinhardt, Stéphane Grappelli and Claude Lutter.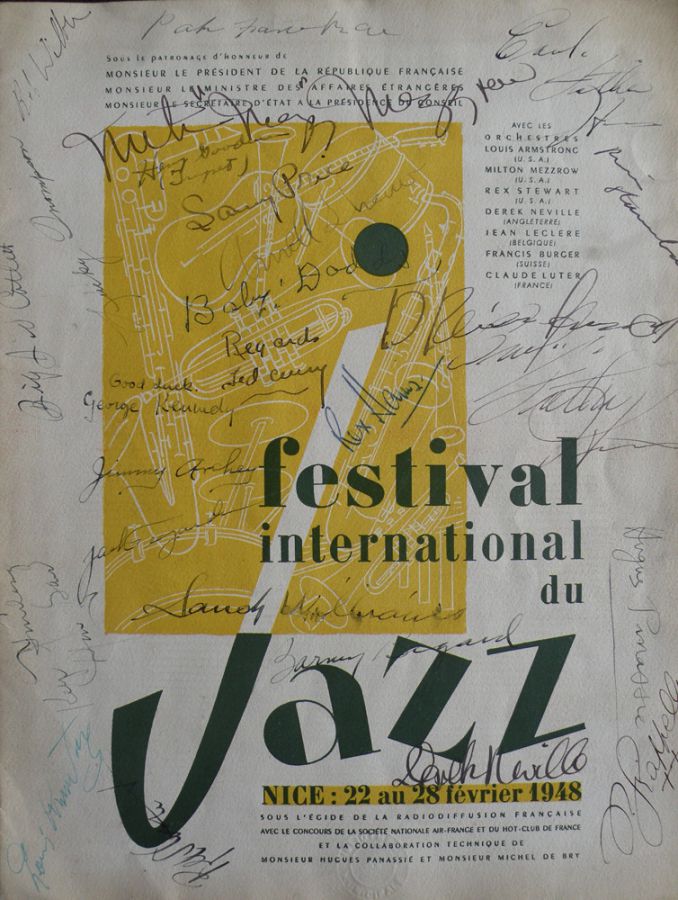 Then there was nothing for 23 years…
The Nice Jazz Festival then returned to the city in 1971 and for two years was held in the present location, at Théâtre de Verdure then in '73 the festival moved to the beautiful and vast Cimiez Gardens where it remained for almost forty years, where every summer hundreds of bands and musicians performed under the stars surrounded by ancient olive groves and the Roman ruins. During these years the festival stages welcomed the biggest names in the jazz world such as Miles Davis, Ella Fitzgerald, Ray Charles, Chuck Berry, Fat Domino, Dizzy Gillespie, Art Blakey, Carlos Santana…
From 1994, the tradition was a little shaken up as the festival opened its doors to more diverse world music styles, such as pop, soul, hip hop and reggae.
In 2011, the festival returned to its original location – Théâtre de Verdure and from 2014 started to benefit from the then newly opened "Promenade du Paillon" where the main stage is since located.
In 2016, the festival was cancelled following the terror attack on July 14th. The festival was due to start two days later. The festival then returned back in 2017 for five nights in a spirit of hope and peace, each night the artists and audience paid tribute to the victimes of July 14th.
NICE JAZZ FESTIVAL 2018
The 2018 Nice Jazz Festival, which is celebrating its 70th anniversary, kicks off on Monday 16th July. It has always been one of the most celebrated music events on the French Riviera and if you are in the area on given dates, you should not miss it. For the price of a ticket you get to see at least 6 bands every night (except of Tuesday, when some performances are free of charge and the rest is at a reduced price).
Here we take a closer look at the very promising line up, what a great blend of jazz, blues, swing, pop, folk, r&b and other music styles from all over the world. Read more about the tickets, how to get there and little tips when at the festival.
Monday 16th
At 19.30 at Théâtre de Verdure welcomes Kyle Eastwood Quintet – the oldest son of Clint Eastwood who offers a contemporary approach to jazz. Kyle has contributed to the soundtracks of Mystic River and Million Dollar Baby.
Followed by Shabaka Hutchings and Sons of Kemet, London based saxophonist and a mini brass band are one of the jazz sensations of the year. To finish of, at Théâtre de Verdure's stage, 35 jazz musicians from Nice and the Côte d'Azur and saxophonist Pierre Bertrand will be paying tribute to the musicians who have left their mark on the festival's history: Louis Armstrong, Sidney Bechet, Stéphane Grappelli, Django Reinhardt, Dizzy Gillespie, Count Basie, Professor Longhair, Fats Domino, Barney Willen, John Lewis, Miles Davis…
The evening at the main stage at Massena will kick off with French pop soul singer Kimberose.
Followed by Aloe Blacc, who is best known for his singles "I need Dollar" and "The Man" and for writing and performing vocals for late Dj Avicii's "Wake me Up".
The opening night will be closed by the performance of Gregory Porter accompanied by the Philharmonic Orchestra of the Opera Nice Côte d'Azur. Gregory Porter is one of the most charismatic singers of contemporary jazz who won the Grammy Award for Best Jazz Vocal Album in 2014.
Tuesday 17th
On Tuesday, the program for the evening is split between the French and American artists.
Théâtre de Verdure hosts French jazz performers and the entry is free! At 18.00 you can see The Amazing Keystone Big Band – jazz orchestra composed of 17 musicians and at 21.15 French jazz artist, composer and producer Pierre Bertrand.
Over at the main stage at Massena, the evening will kick off at 20.00 with very amicable Derobert and the Half Truths, who are currently on their summer European tour, bringing their "raw soul" music to Nice all the way from Nashville, Tennessee. You will not be able to stay still listening to these guys!
At 21.25, there will be R+R=NOW, that has been brought together by Robert Glasper for a one-off tour. Six super talented musicians, who are reimagining, maybe even rewriting, the rules of jazz, with the sounds of hip-hop, electro textures and R&B groove.
The night will finish off with the soft baritone voice and laid-back acoustic instrumentation sounds of former surfer Jack Johnson, who is scheduled to come on the stage at 23.00.
This is an evening not to be missed, especially with a special tariff – 25 EUR for a night.
Wednesday 18th
Théâtre de Verdure has an interesting mix ready for you this evening.
At 19.30, Camille Bertault, a super popular French Youtube star who gained her popularity thanks to hundreds of thousands of views of her home made videos will entertain you as a first act of a night..
Followed by Laurent de Wilde – New Monk Trio, a very well known and talented French jazz pianist playing with his trio since 1997.
The last act on this stage will be carried out by Joshua Redman and Billy Hart Trio. Mr Redman is an acclaimed tenor saxophonist with a love of tradition as well as desire of exploration. He accompanied by a living legend Billy Hart who worked alongside Miles Davis and Herbie Hancock.
The main stage will have its fair share of engaging acts. Staring at 20.00 with soul and R&B singer Deva Mahal (pronounced "diva"), a daughter of great bluesman Taj Mahal.
Another offspring of a famous father will follow up, Seun Kuti and Egypt 80', a youngest son of legendary afrobeat pioneer Fela Kuti. Seun leads his father's former band since his dad died – he was only 14 years old!
The last act of the night will belong to French rapper Orelsan. Orelsan is often compared to Eminem, as both are well known for their ability to switch between or combine violent and comical rapping techniques.
Thursday 19th
This evening the Théâtre de Verdure will be opened at 19.30 by Baptiste Trotignon and Yosvany Terry, presenting their latest album "Ancestral memories". Both musicians dwelled into the musical traditions of former French colonies (Haiti, Cuba, Martinique, Guadeloupe and Reunion) and integrated this material into a modern and contemporary jazz quartet.
Followed by Mélanie de Biasio, classically trained flautist and vocalist who is often referred as the Belgian Billie Holiday. Her work can be described as a mix of European jazz, nor-ish soul, avant pop, electro and hip hop.
The last act of a night at this stage will be performed by Henry Butler and Jambalaya Band. Henry has been playing piano since he was 6 years old and his hands can boogie keyboards like no one's else's. As the name of his band suggest, we can expect a typical Louisiana jazz with a touch of Blues and Caribbean sounds, a show not to be missed!
Massena stage will kick off with a trio of rappers originating from Scotland, Nigeria and Liberia who met in Edinburgh and started their career as teen performing in the nightclubs. Young Fathers feature six tracks on the T2 Trainspotting soundtrack.  In 2016 they teamed up with Massive Attack and are currently on their summer European Tour.
Completely different sound and atmosphere will bring the next act – Gary Clark Jr. – Texas born guitarist, who's been compared to  Jimi Hendrix. His music can be described as powerful blend of blues, contemporary soul and hip hop.
Massive Attack, one of the biggest stars of this year's line up will welcome its audience at 23.00 on the main stage. One of the most innovative and influential groups of their generation. They are celebrating thirty years together this year. A pioneering band of the trip hop genre from Bristol combining the darkly sensual hypnotic sound, sensitivity of soul, dub grooves, hip hop and many more doesn't need any other introduction to any music fan.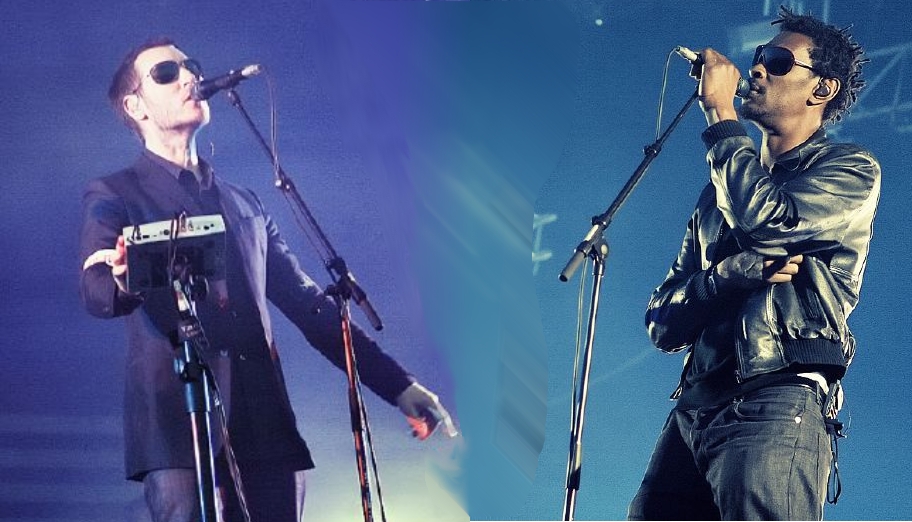 Friday 20th
The first two acts in Théâtre de Verdure will belong to the "new" talents.
First at 19.00 to Jeff Roques Quartet, who was the winner of the 2017 Nice Jazz Festival Springboard competition organised by the City of Nice in association with La Ruche. With his quartet, Jeff Roques plunges us into a universe of Be-bop and Hard Bop, which pays tribute to the masters of this music, Charlie Parker, Thelonious Monk, Miles Davis and others.
Half an hour later, at 19.30, Tom Ibarra, only 19 years old French musician, influenced by funk rock fusion who started to play guitar at the age of six and composing his own music since he was eleven. In 2015 he was the youngest guitarist endorsed by Ibanez Guitarist.
Next up – Rhoda Scott and her Lady Quartet are no spring chickens in the world of jazz music. Rhonda has a nickname "bare foot organ player", because when attracted to the organ at her father's church at the age of seven, she immediately took her shoes off and ever since then she plays her church organ barefoot. Miss Scott appeared alongside icons such as Ray Charles, George Benson and Ella Fitzgerald. American originally, she moved to France in 1967 and her lady quartet is 100% female and French.
Avishai Cohen Big Vicious will follow up at 22.30 and this is the band you should not miss. Described as the most exciting Israeli jazz musician in the world and extravagantly skilled trumpeter who is often combining Middle Eastern and Israeli music with both electric and acoustic jazz.
The main stage at Massena will produce some interesting and also very diverse shows tonight, starting at 20.00 with Bilal, Philadelphia born soul artist inspired by gospel, blues, hip hop and of course jazz. He has been well received both in The U.S. and internationally with an extensive list of collaborations including Kendrick Lamar, Erykah Badu, Jay-Z, Beyoncé, Robert Glasper and The Roots.
At 21.15 you will have a chance to see a cult French electro-pop band, a musical experiment of French composer, producer, singer but mostly keyboard player and keyboard enthusiast Hervé Salters. Blending keyboard funk, old school pop and hip hop beats, indie rock, future soul, we doubt anybody will stand still during this show!
The last show of the night that begins at 23.00 will belong to Parov Stelar. Marcus Füreder, better known by his stage name Parov Stelar is Austrian DJ, one of the pioneers of electro swing (combination of vintage or modern swing and jazz mixed with house, hip hop and electronic dance music).
Looks like a great dance night at Massena on Friday night!
Saturday 21st
The last night of the festival at Théâtre de Verdure and main stage of Massena  will belong to some diverse and noteworthy international acts.
First, at 19.30, Eric Legnini featuring Ali Jackson from Belgium will celebrate the timeless modernity of jazz. Their style of music is warm, direct and bursting with swing and gospel directly from the dark heart of jazz.
Followed by Trio Rosenberg. Two brothers and a cousin were raised in a very musical family in the Dutch gypsy community influenced by Django Reinhardt. Their music is broad with classical pop and bossa nova in gypsy swing style. Over the past 25 years the Rosenbergs played around the world and established themselves as the best in their field.
As the last performance of the festival on this stage we will have a chance to see a living legend, Randy Weston's African Rhythms Quintet. Randy Weston, originally from Brooklyn, remains one of the world's most influential pianist and composer, a true innovator and visionary, combining African elements with jazz techniques. Accompanied by Billy Harper on saxophone, a musician with a distinctively stern, hard as nails sound on his instrument.
The Massena stage program will feature Nathaniel Rateliff and The Night Sweats, eight piece band from Denver, definitely one of the highlights of the festival, starting at 20.00. Their music is a blend of folk, Americana, gospel and vintage rhythm and blues. Put your dancing shoes on, as you will not be able to stand still.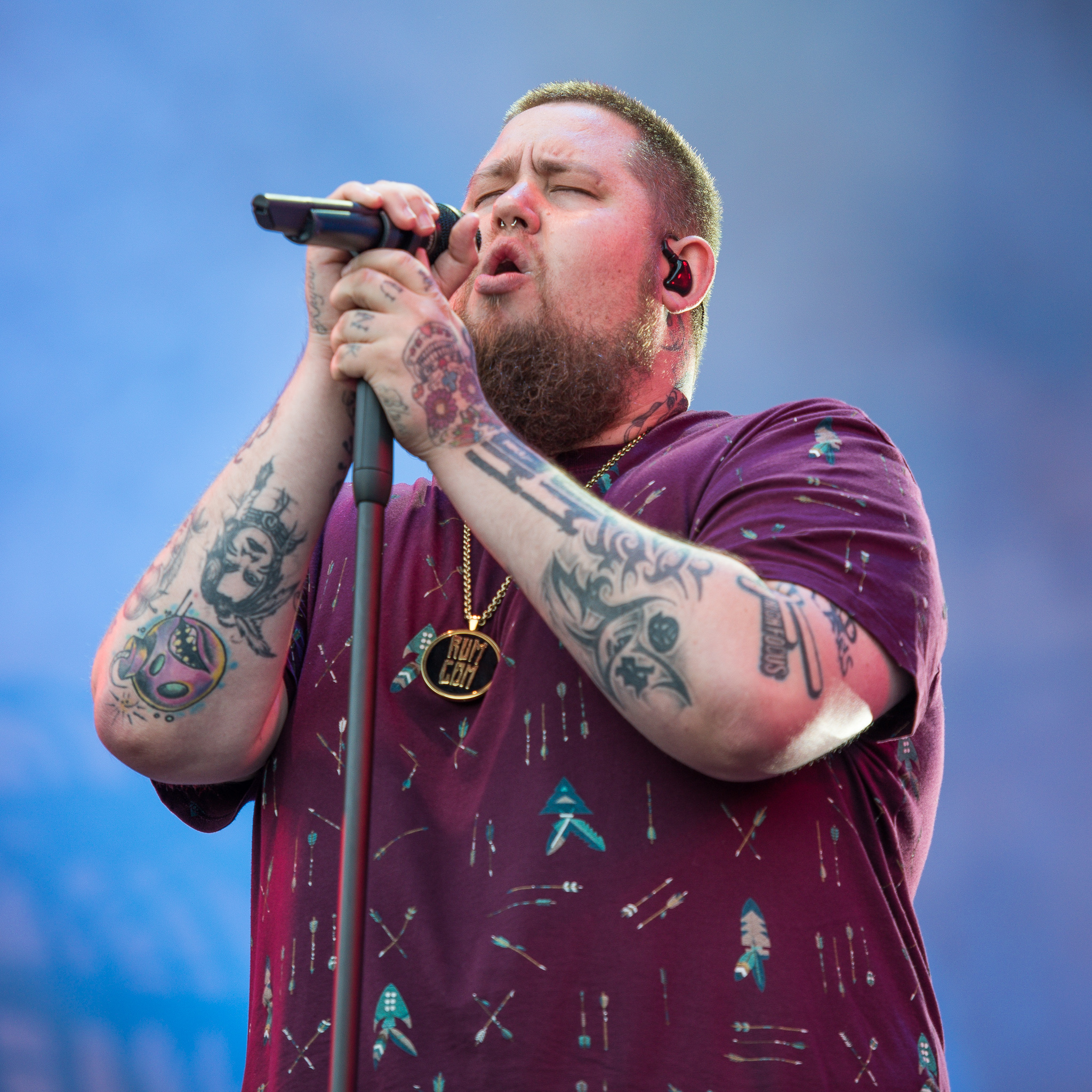 Rag n Bone Man – Rory Charles Graham
Followed by Rag 'n' Bone Man, aka Rory Graham, who is scheduled to start at 21.15. Rory might look like from an early 2000's metal band, a big man covered with tattoos and distinctive beard but he blows away the crowd as soon as he opens his mouth – with his deep bass-baritone voice and powerful, soulful and bluesy vocals.
His first hit single "Human" was released in 2016, followed by his debut album of the same name in 2017. The same year he was named British Breakthrough Act and received Critic's Choice Award at Brit Awards.
The very last performance of the night and the whole festival will be carried out by Soulwax, ambitious band and electronic remix project of Belgium brothers Stephan and Davis Dewaele. The group has produced a number of official and unofficial remixes and reinvented themselves as Brit pop, synth pop, techno and dance remix act. They are to officially close this year's very broad and musically multicultural Nice Jazz Festival 2018.
Tickets for Nice Jazz Festival
The tickets can be bought personally on any day during the festival or in advance, normally 10 days before it kicks off, at the ticket booth located at Place Massena. Both cash and credit cards are accepted.
Online, the tickets may be purchased on following websites : www.francebillet.com, www.fnac.com, www.carrefour.com .
Rates
1 DAY TICKET – 39 EUR ( reduced to 35 EUR if purchased 2 months in advance)
2 CONSECUTIVE NIGHTS PASS – 60 EUR
5 NIGHT PASS – 130 EUR
CHILDREN 10 – 16 YEARS OLD – 17 EUR per night
CHILDREN UNDER 10 YEARS OLD – free
BLIND PASS – 99 EUR – 5 DAYS. This is the best deal but has to be booked before the lineup is announced, so several months before the actual festival. If not feeling like going every night, the ticket can be shared among several people.
At the Festival
The gates open an hour before the first concert. Be aware that you will have to go through the security check at the entrance, there will be most likely a long line, so either arrive early or just after the first concert kicks off. The contents of your bag will be searched for security reasons and among the usual prohibited items, no liquids are allowed.
There are food and drink stalls available between the two stages for people looking to grab a quick bite or drink before the next show starts. When purchasing your first drink, you will receive and pay 1 EUR as a deposit for a reusable plastic glass with a logo of the festival. You can return the glass and receive your deposit back or keep it as a souvenir. Great way to reduce never ending plastic waste!
There are several drinking fountains available within the grounds, use your reusable glass or bring an empty (non glass) bottle with you.
It is a child friendly festival, given that your kids are interested in such a music, there is a large grass area where you can spread your blanket and take a little break.
Théâtre de Verdure can take up to 2415 spectators (over 1000 seats available). It has a more personal and relaxed atmosphere and hosts jazz bands and artists only.
Main stage at Massena is standing only and holds up to 6500 people. Here you find a mix of different music styles and main artists that draw the crowd.
How to get there
The festival is located very centrally, at the Massena Square. It is a short walk from anywhere in the Old Town. If arriving by tram from Henri Sappia direction, your tram stop is called Massena. If arriving from Hopital Pasteur direction, get out at Cathedrale Vieille Ville stop. Either way, it would be very hard not to spot the large crowd of people and big gated area where the concerts are held.
The frequency of the tram is increased during the peak hours of the festival – from 21.00 till the end of the service. The last tram direction Hopital Pasteur leaves the terminal at 0:50 and direction Henri Sappia at 1:35.
Driving to the festival is best avoided, as the parking is always a nightmare. If you have to drive, try to park your car on the outskirts of the city centre and use the public transport. You can use the services of 5 car parks "Parcazur". They will enable you to reach the city center by public transport (tram or bus) without worrying about your vehicle. The "Parcazur" provides free parking as long as you have a used public transport ticket. More information on how it works can be found on www.lignesdazur.com website.
If you prefer car parks in the city centre, be aware of the high cost, you can see all available car parks and check the prices here >
OFF Jazz Festival
In more than 30 places around the city, up till 16th July, there will be free jazz sessions, concerts and events performed free of charge. You'll find them in the little bars, on the streets, in tramways, galleries, public parks… As the moto promises – "If you don't come to jazz, jazz will come to you". Check the venues here
On Sunday, 16th July at 11.00, you can also see London Community Gospel Choir at Massena Square free of charge. As a leader of the most beautiful voices in England, the Reverend Bazil Meade promises us an unforgettable moment, filled with spirituality and a contagious positive state of mind.
Get yourself in the mood and check out some of the artists on our Jazz Festival Playlist