12 Feb

Villa Ephrussi de Rothschild

Two passionate masterminds behind two grand projects of two extraordinary villas and there gardens, two dreamers with fascinating life stories, two prominent addresses, Beaulieu sur Mer and Cap Ferrat…

Today, although Cap Ferrat is said to be some of the most expensive real estate in the world (Beaulieu sur Mer is slightly cheaper), most of its grand homes are hidden away behind high walls.


Only two mansions in this area are opened to the public; Villa Ephrussi de Rothschild and Villa Kérylos and the good news is, they are within a walking distance from each other!

History fans, Greek mythology buffs, Belle Époque and Renaissance admirers, architects, horticulturalists, or simply lovers of pretty things, whoever you are and whatever your budget is, put the visit of these villas on your itinerary while on French Riviera.

VILLA EPHRUSSI DE ROTHSCHILD

Avenue Ephrussi de Rothschild, 06230 Saint Jean Cap Ferrat, Tel: 04 93 01 33 09, www.villa-ephrussi.com

History of Villa Ephrussi de Rothschild

The creator of this beautiful villa and its gardens was Baroness Béatrice de Rothschild, the daughter of a wealthy and powerful banker and art collector Alphonse de Rothschild. At the age of 19 she married a friend of her parents. Maurice Ephrussi, a banker and horse breeder with Russian roots, who was fifteen years her senior.

There was very little happiness in this marriage for Béatrice, she had caught a sexually transmitted disease from her husband that caused her to be infertile and on top of that Maurice was a huge gambler. In 1904 he generated a debt over 12 million gold francs ( almost 30 million euros)!

A worried Rothschild family decided to take Maurice to court in order to file for a divorce and they succeeded. In 1904, after 21 years of a very sour marriage, Beatrice was free. Her father died only a year later and Béatrice inherited a vast fortune.

The very same year Béatrice purchased an arid rocky plot of land in Cap Ferrat and started to build her dream house. The works commenced with the gardens (which took 7 years to complete) and in 1907 a carefully chosen architect Jacques Marcel Auburtin started with building the Venetian style villa. The Baroness moved into the villa 5 years later, called it Île de France (after a steamship) and furnished it in exhaustive "Gout Rothschild". The family has always bought only the best possible on the market, preferring the decor from the reigns of Louis XIV, Louis XV and Louis XVI.

In 1933, Béatrice bequeathed 7ha of land, the villa and over 5000 works of art to Academie des Beaux-Arts and died a year later from tuberculosis.

Villa Ephrussi de Rothschild Today

It is hard to decide what is more breathtaking, the gracious palace inspired by Italian Renaissance or its gardens.

The two floors of the villa which were sophistically decorated by Béatrice who was known for her pronounced taste for the 18th century, contain a lot of history and carefully selected antique furniture, paintings, sculptures, rare porcelain…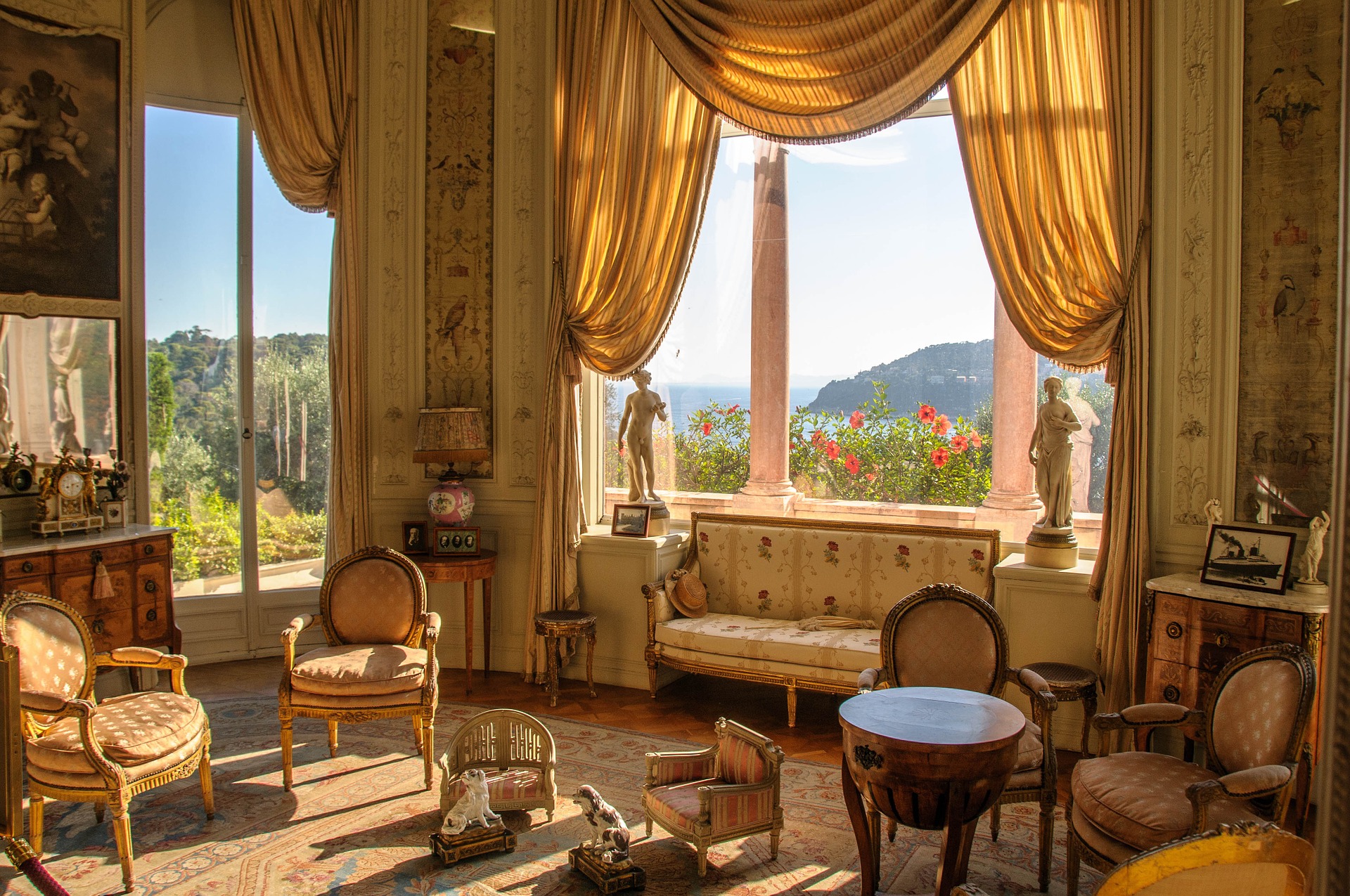 To mention only a few items; carpets made at the Savonnerie Manufactory, originally used in Versailles and Louvre (made in the time of Louis XV and Louis XIV) , gaming tables and writing desk purchased by Marie-Antoinette, patio with arches made from Verona marble, a room entirely dedicated to German porcelain, Tapestry Room, Monkey Room (The Baronese had two pet monkeys and as the name suggest the whole decor is devoted to them), Chinese Room including a collection of small shoes that belonged to upper class Chinese women who used to apply binding to their feet in order to modify their size and shape.
In Béatrice's private apartments you will get to see her Boudoir, where she used to receive visitors, a bedroom furnished with a Venetian bed and covered with Chinese silk and the masterpiece itself – a circular shaped bathroom. The Baronese used to live here with her beloved and well pampered dogs.
Gardens
No expense was spared in the creation of these gardens that are segregated into nine different themes. We recommend that you pick up the map of the gardens before going for a wonder around. The map suggests a route that follows like this:
Jardin Espagnole – The Spanish Garden – features Corinthian arcades, lush vegetation and art from the Iberian Peninsula that give these gardens a real oriental ambience.
Jardin Florentin – The Florentine Garden – a horseshoe shaped staircase contains a neo gothic marble angel in its alcove. The views of the Mediterranean from its romantic balconies are breathtaking.
Jardin Lapidaire – The Stone Garden – a combination of unusual plants and art from various eras that did not find a place in the villa are proudly standing here and giving this garden a very shady and undergrowth feeling.

Jardin Japonais – The Japanese Garden – water and Japanese traditions feature everywhere. There is a pond with Koi carps, traditional bridge, wooden pavilion, bamboos, stone lanterns…all within zen principles.
Jardin Exotique – The Exotic Garden –  was formerly called The Mexican Garden and is all about succulents and gigantic cactus. Heaven for cacti lovers.
Roseraie – The Rose Garden – is filled with hundreds of varieties of roses. When visited between the main blossom season (May to June), the sweet scent is unmissable. A small hexagonal temple with a goddess in the middle offers spectacular views. The annual Rose festival that brings together horticulturalists and craftsmen alike is held around the first week of May.
Jardin Provencal – The Provencal Garden – a lovely, almost modest walk (after all the fancy gardens) through a typical Provencal flora, filled with olive and pine trees,  beautiful lavender and blue lillies.
Jardin à la Française – The French Garden – is the garden right in front of the villa. Béatrice has designed this garden in a shape of a ship's deck and it features several hundred year old olive and pine trees, waterfall, pond, gracious 'Temple of Love' and musical fountains that are choreographed to classical music every 20 minutes.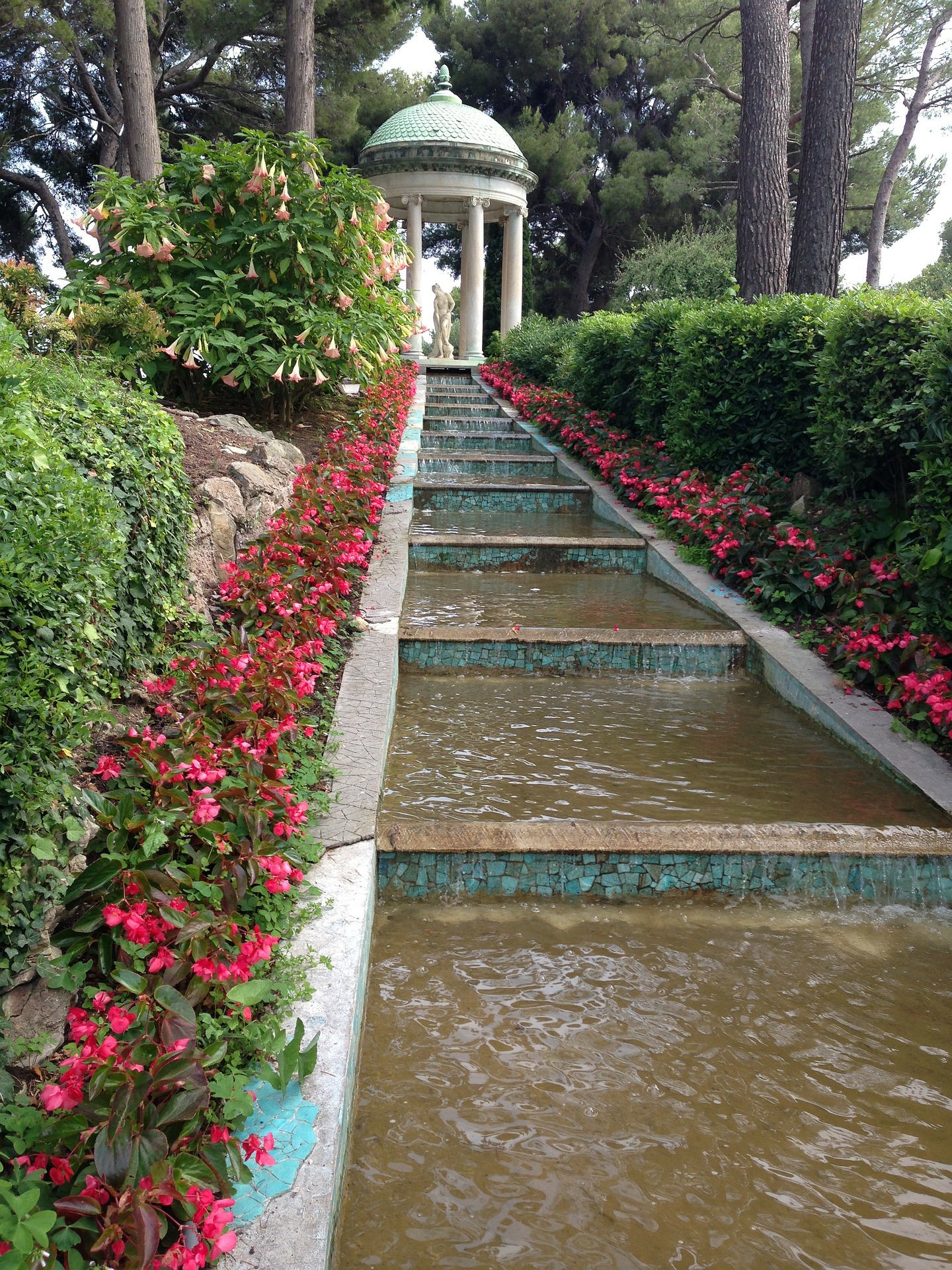 Jardin de Sèvres – The Sèvres Garden – in front of the apartment of the Baronese is a part of the tearoom where on warm days you can enjoy a cuppa, glass of champagne or a light lunch.
Tea Room
The beautiful tea room overlooking the Bay of Villefranche is set in the room that Beatrice used as a dining room, expanding out onto an outdoor terrace.
Don't miss the opportunity to treat yourself to a cup of tea and a dessert. It is not cheap but it is truly a memorable experience. The cup of tea or american coffee costs €4.20, one of delicious desserts €9.50, glass of wine €6 and champagne €12. The Tea Room is opened between 11.00 – 17.30 and also light lunch is available between noon and 15.00.
Opening Hours
February – June / September – October : 10.00 – 18.00
July – August : 10.00 – 19.00
November – January : Monday to Friday – 14.00 – 18.00, on weekends and holidays 10.00 – 18.00
Admission Fee
Adults €14, Children 7-17 years old and Students €11, Children under 7 years old go for free. A family package for 2 adults and 2 kids €44. If arriving by TER train to Beaulieu sur Mer, present your train ticket to obtain a discount of €2.50.
There is a possibility to buy a joined ticket for Villa Ephrussi de Rothschild and Villa Kérylos for €20 (you have up to a month to visit the second villa).

With TER train discount you only pay €15.50 for the joined ticket (you have up to a week to visit the second villa).
Free self guided tour
Before visiting plan ahead and you can download an application with a free guided tour lasting one and half hours for Android from Google Play Store or for iOS on the  Apple App Store. There is a free wifi, so you will not need 3G or roaming data. Alternatively, you will be offered a free audio-guide of the permanent collections on arrival. It is available in 9 languages, French, English, German, Italian, Spanish, Dutch, Japanese, Chinese and Russian.
How to get there
The easiest and quickest way from Nice is to hop on the bus number 15 leaving regularly from a bus stop called 'Promenades des Arts' located at the back entrance of grocery store Monoprix near Place Garibaldi. The bus takes about 35 minutes and you should hop off at the bus stop called Passable/Rothschild. You will only need to cross the street and take a brief but steep walk up to the entrance. If you wish to take the same bus back to the city, you will see the bus stop on the other side of the street going direction to Nice.
If you wish to use the discount offered by SNCF, you will need to take a train to Beaulieu sur Mer (there is no train station in Saint Jean). It is quite a walk from there to Saint Jean, but very pleasant (follow the coast). Alternatively, you can take a bus number 81 from the train station.
If arriving by car, you will need to park your car on one of the nearby streets. You will need to purchase a parking ticket unless visiting between the 1st October and 30th of April when the parking in the town is free everywhere.
If arriving by foot from the village of Saint Jean, count on 15 minutes walk, follow the signs.