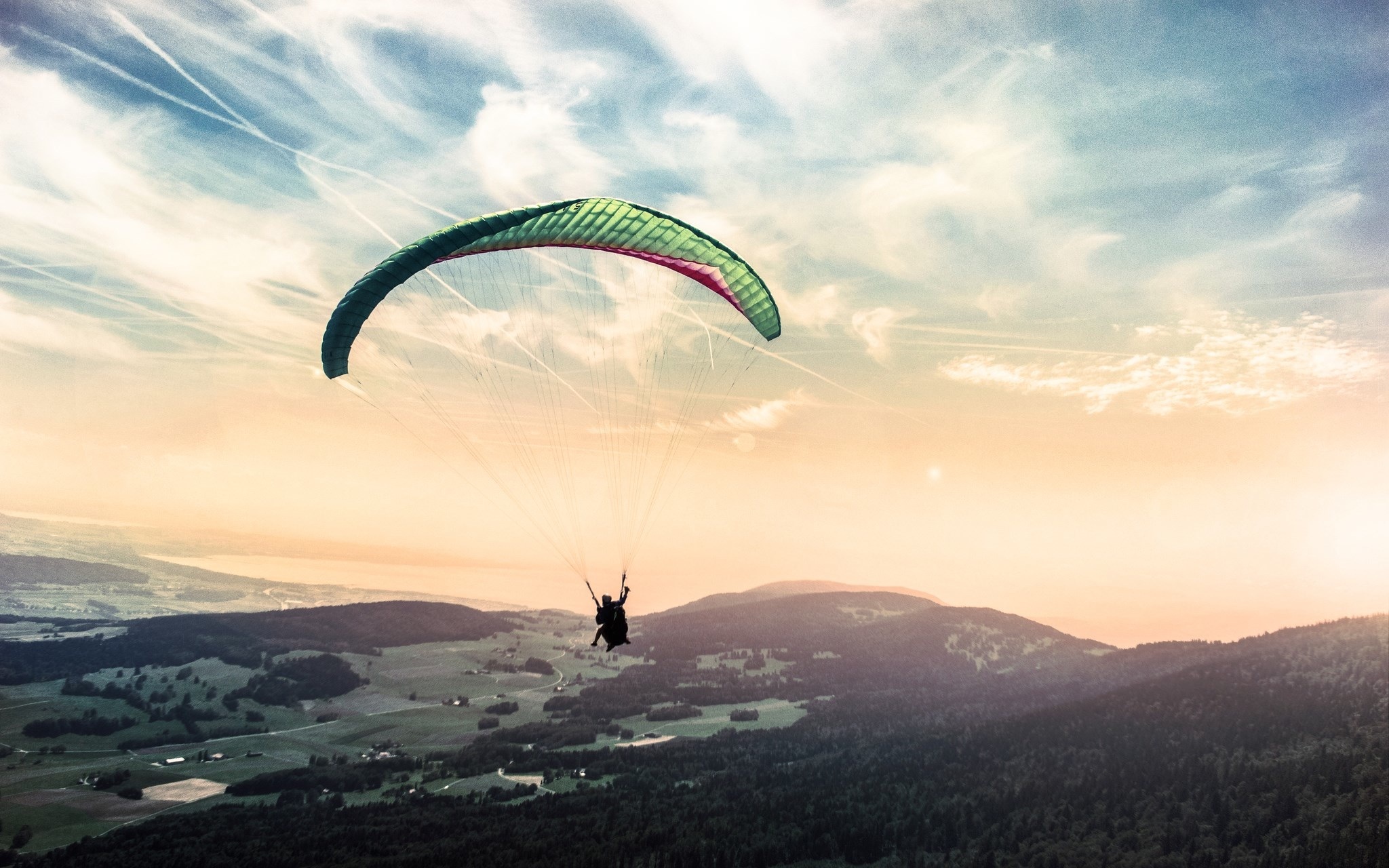 29 Oct

Adrenaline Sports on the French Riviera

The French Riviera isn't only about sightseeing, history, art, eating and drinking, for travellers who prefer little more adventure though, there are many thrilling activities to try their luck at in some of the most idyllic settings imaginable. Stunning nature and favourable climate all year round, this part of France can't help but lure visitors to the endless outdoor activities, on land, at sea and in the air.

Here are a few adventure sports you might want to sample to pump up some adrenaline and push yourself beyond your own mental and physical limits, while on your French Riviera holidays!
Paragliding
Paragliding is the purest, cheapest and most accessible form of aviation. It is all about the ability to use the forces of nature to fly, feeling the freedom, just like soaring birds. Believe it or not, it is one of the most liberating and relaxing things you can ever do, even if afraid of heights. Don't miss on the ultimate natural high – that supercharging rush of adrenalin that floods through your body…come and fly!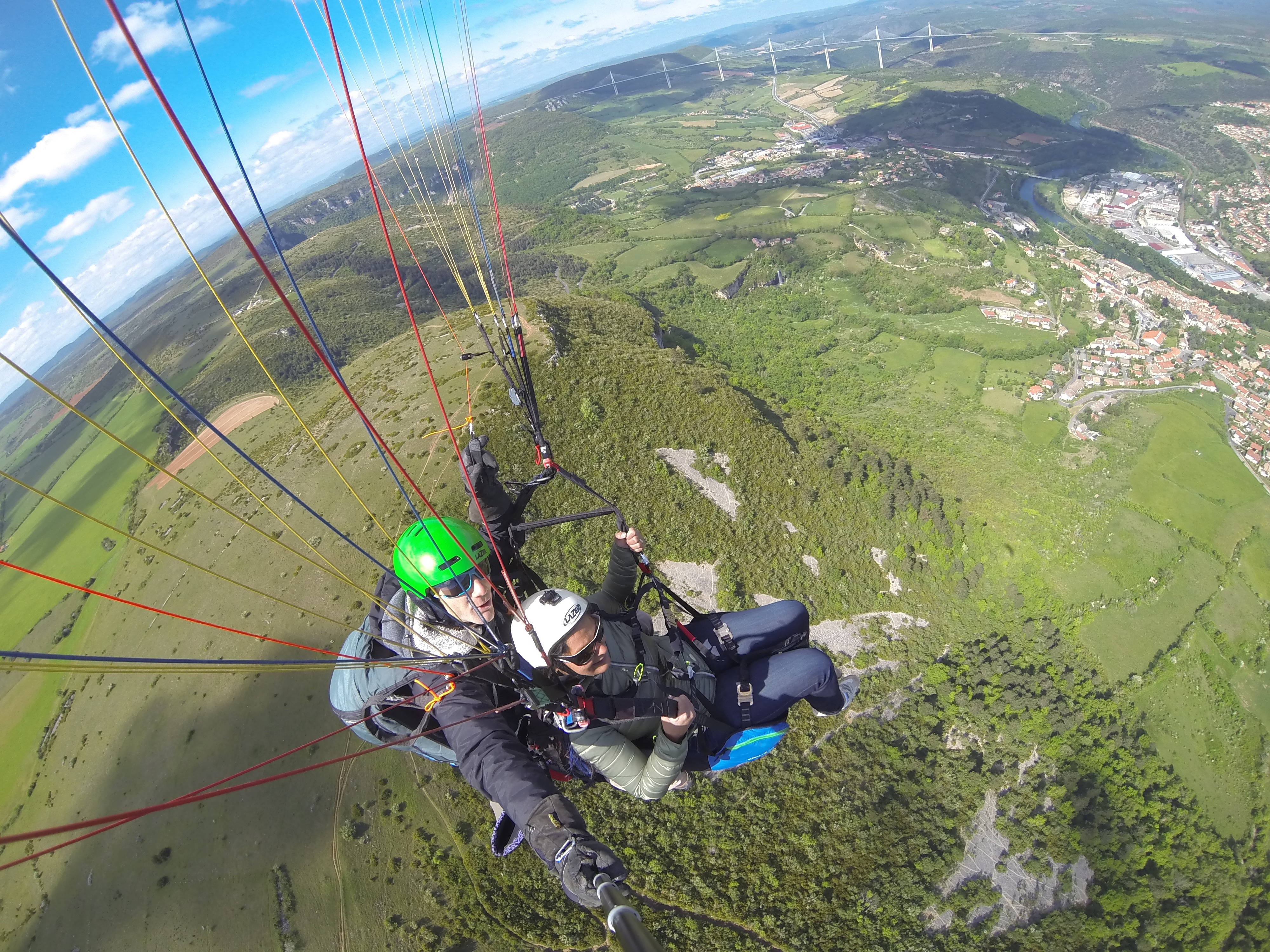 Spir'it
Chapelle de Sainte-Luce, 410 Chemin de Sainte-Luce, 06460 Saint-Vallier-de-Thiey (meeting point only). Tel: 06 85 56 08 36, info@spiritparapente.com, www.spiritparapente.com
Enjoy the sweet feeling of lightness even without any previous experience! Fly in tandem with an experienced pilot while you relax and feel the thrill of flying above Grasses's hinterland between Préalpes d'Azur National Park and the Mediterranean sea, small Provençal villages, valleys and floral landscapes.
The former national contestant Jean Vincent Ducrocq is an instructor who can help you to achieve it in calm and encouraging way! He invites you – sometimes accompanied by Marie – for tandem paragliding flights over Saint-Vallier de Thiey near Cannes.

How much does it cost?
"Piu Piu" flight: 8-15 min (12+ years old) €60
Discovery flight: 8-12 min €70
Thermal flight: 15-22 min €80
Thermal Plus flight: 30-35 min (90 kg) €95 March to October only
Long flight: 45 min – 1hr (90kg)  – €135, March – October only, video included
Please, it is obligatory to call a day before your booking to confirm the weather conditions. The address provided is where your meeting point is for the booked time of your paragliding.
Imagin Air
Imagin Air, 2 Chemin du Golfe Bleu, 06190 Roquebrune Cap Martin/
Résidence Azur Mercantour, 06420 Valdeblore,  Tel: : 06 60 72 60 43 (Gabriel) or email to book info@parapente-roquebrune.fr
With Imagin Air, the paragliding spots are divided into two seasons; Winter Season – from 1st October to 30th of April and Summer Season, from 1st of May to the 30th September.
During the winter season you take off from Mont Gros overlooking Menton and Monaco (700m or 2300 ft above the sea) and land at Le Golfe Bleu Beach in Roquebrune Cap Martin, which is quiet this time of the year, so landings are allowed. During the summer, you head off to La Colmiane, located at the border of Mercantour National Park, approximately 40 km north of Nice. From the bird's eye perspective you will be admiring the beautiful nature, surrounded by summits topping up to 2880m  (9449 ft).
Wear boots or shoes with good ankle support and even in summer warm-ish clothes.
How much does it cost?
Discover paragliding (including insurance)
15 min – €70, for group of 3 people and more €60
20 – 30 min – €90, for group of 3 people and more €80
Video and photo €25
Zipline
Immeuble Azur Mercantour, La Colmiane, 06420 Valdeblore, Tel: 04 93 02 83 54 www.colmiane.com
Get ready to feel the wind in your hair while having a permanent grin on your face or possibly screaming your lungs out as you rocket up to 130 km/h, 100 meters off the ground above Vésubie valley. This is the longest zipline in whole of France, whooping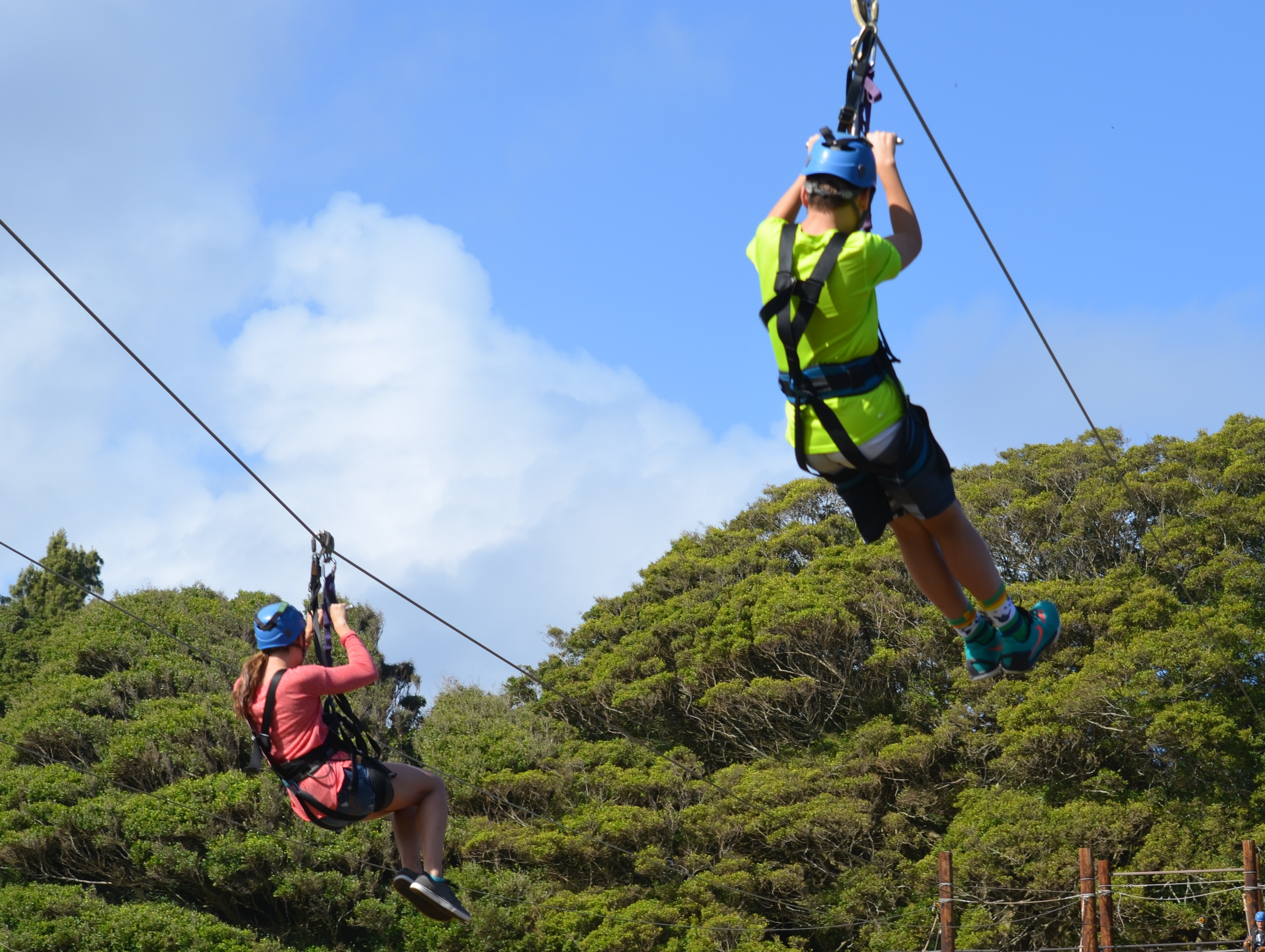 2 663m long, divided into two lines. The zip line experience will give you a completely unique perspective of the stunning region of Mercantour National Park, without (or with?) breaking a sweat. Not physically demanding but rather mentally challenging, the feeling of achievement when reaching the end is unbeatable. Only for the brave and daring. Even in the summer, wear warm clothes and closed shoes, it is cold up that high and in the winter wrap up in ski or mountain gear, as you would going skiing.
How much does it cost?
€35 per person, possibility of two people going together as long as the maximum weight is no more than 150kg and the difference in weight between the two is less than 40kg.
€65 for an adult and a child (younger than 16 years).
Opening Hours
The zipline is open every day in July and August and during school holidays, outside the holidays every Saturday and Sunday until the end of March. Since the dates are changing every year, it is essential to check the website, it will show you available dates and times to book. Arrive 30 minutes before your booked time and collect your tickets from the cash desk.
Bungee Jumping
Top Jump, Tel: 06 59 59 33 25, info@videotopjump.fr , www.videotopjump.fr
About 2 hours drive from Nice, you will find The Gorges de Daluis, also called 'French Little Colorado'. It is a 6km long canyon formed by the river Var, cutting its way through the red rocks, past towering sandstone cliffs and bizarre rock formations.
The bungee jumps from 80 metres high 'Pont de la Mariée' bridge (equivalent to 23 floors) are organized by a local company Top Jump since 1996. Its founder Laurent Cottin was 6 times a World Champion Bungee Jumper, so you can be sure to be in good hands.
The views on the surrounding nature from the bridge are spectacular. There's nothing quite like standing on the edge of a sheer drop with your feet attached to a bungee cord to get the heart pumping. After a fall at 100km/h, you will go up 55 metres, rebound and during your descent, you even get to touch the turquoise waters of the river Var flowing under the bridge! Could this be the ultimate day out for extreme sports junkies who don't have a fear of heights?
The bridge, originally known just as Tramway bridge used to connect two remote municipalities of the region from 1923 by 'Le Train du Sud' (The South Train). It took its new name 'Pont de la Mariée' (The Bride's Bridge) in 1927 following a tragic event. Legend has it that a pair of newlyweds took an evening walk after the reception to the bridge and the young bride mysteriously fell off the bridge into the gorges. The official statement concluded an accident, however, according to the tale, the bride committed suicide over a broken heart, having been forced to marry someone she did not love. Little morbid but so is falling through the skies attached to only a cord.
How much does it cost?
€79 per person
€70 per person for group of at least 5 people
€65 per person for group of at least 10 people
Booking in advance is essential.
Minimum age 16 years (written parental consent obligatory).
Maximum weights 110kg.
Opening Hours
Opened every Saturday and Sunday in July and August and Sunday only in September. From 11.00 – 15.00.
Rock Climbing
Olivier Germain (guide), Tel: 06 81 05 30 20, olivecanyon@gmail.com, www.canyon06.guide
The sunny French Riviera surrounded by the beautiful waters of the Mediterranean Sea and peaks of the French Prealps is full of rocky landscapes and thrilling walls in which you will be able to test the mountain and the gravity.
La Turbie overlooking Monaco, stunning Gorges du Loup, Saint Janette, Contes, there is a wide range of climbing possibilities near Nice, suitable for all levels, beginners as well as experienced climbers. Even if you've never rock climbed before, you'll be amazed by what you can achieve under the safe guidance of a professional training instructor. Challenge yourself and discover the climber in you.
It can look quite intimidating at first, but the feeling of being so close to the rock, using just hands and feet, defying surfaces with varied characteristics and taking advantage of every nook and cranny is a very rewarding experience.
For booking please use the contact provided to confirm on availability and a climbing site.
How much does it cost?
For a group of more than 6 people:
€35 per person – half day (3 hours) / €50 per person – full day (6 hours)
For a group of 4 or 5 people:
€40 per person – half day (3 hours) / €60 per person – full day (6 hours)
Less than 4 people and if it's not possible to reach a group:
€150 for the half day / €240 a day
Skydiving
Centre Ecole de Parachutisme de la Côte d'Azur, 83340 Le Cannet des Maures, Tel: 06 18 06 57 55
Skydiving is an extreme adventure sport, but tandem skydiving means that even a first timer can experience the incomparable sensations of free falling and flying without any specialised training. At first, nerve racking then a real sense of achievement and elation is what most people describe after they've skydived.
You can challenge yourself while holidaying here with Cannes Parachute Club.
There are two drop zones, the one closer to Nice / Cannes is located in the field off Cannet des Maures (also referred to as Le Luc), in the heart of the Var department, 100 km from Nice / 73 km from Cannes. On the day of your booked appointed you will arrive here to meet your instructor. After completing all the necessary paperwork and a quick briefing of 15 min during which you will be explained jumping and landing techniques and safety procedures.
Then you will make your way to the plane for 20 min flight, giving you ample time to enjoy the birds eye view of the panoramas and a chance to gather some courage. What is there to see? Gulf of Saint Tropez, Hyères islands, the red rocks of Esterel, Côte d'Azur and the Alps.
Once you've reached the altitude of 4000m (13,200 feet), your tandem instructor will position you and together with him, it is time to jump! You will experience 50 seconds of free fall and at 1500m, the instructor will open the parachute. It will take approximately 8 minutes to touch the ground, during this time you can take in beautiful landscapes.
Age limit is 60 years and weight limit 85 kg. A medical certificate is compulsory, you will obtain the form to fill once you request / book your skydive.
How much does it cost?
Tandem jump – €310 per person
Option of HD video €100 per person
Opening Hours
Skydiving possible only at weekends. Closes for winter mid December.
Skydiving in Wind Tunnel
Sky Dream, Stade André Vanco, Avenue des Combattants d'Afrique du Nord, 06240 Beausoleil, Tel : 06 89 60 87 89
Skydiving in a wind tunnel is a highly exciting activity allowing you to feel the thrill of free fall without actually having to jump out of plane, which is probably the most terrifying part of the whole experience. Feel the weightless, adrenaline-filled sensation of your body becoming airborne thanks to a vertical wind tunnel blasting winds up to over 160 km/h (100 mph/h), lifting you off the ground and stimulating the experience of skydiving.
It is harder than it looks and a real workout too to be able to keep your arms and head in the flying position. If a first time flyer, you need to be accompanied by an instructor. He will keep your body in the right position and prevent you from flying off or banging into the walls of the wind chamber. It is recommended that you start with 2 minutes flying time (you can add more later), to learn to control your body without assistance. To compare it to the real tandem skydive – the average free fall lasts no more than 1 minute!
How much does it cost?
Adults                                                          Child (age 5+)
2 minutes – €49                                         2 minutes – €39
2×2 minutes – €89                                       2×2 minutes – €69
3×2 minutes – €119                                     3×2 minutes – €89
4×2 minutes – €139                                     4×2 minutes – €99
5×2 minutes €149
Opening Hours
Open every Saturday to Sunday, allow 60 to 90 minutes for this activity. The company is very strict on the late arrivals, be there at least 20 minutes before your booked slot. Book online or via phone.
Time slots :
10.00 – 11.30 (only by special request)
11.30 – 13.00, 14.00 – 15.30, 15.30 – 17.00, 17.00 – 18.30, 18.30 – 20.00
20.00 – 21.30 (only by special request)
Helicopter Panoramic Flights
A helicopter panoramic flight will take you soaring above the most spectacular sights of Côte d'Azur. It is a fascinating experience full of surprises for those who do not want to miss out on privileged views of the landscape. From the comfort of your seat, high above the French Riviera, you will discover the region from a completely different perspective, taking home memories for a lifetime.
Azur Helico Cannes
Meeting point – Cannes Helistation Welcome Office, Quai Max Laubeuf, 06400 Cannes, Tel : 04 93 90 40 70, www.azurhelico.com
How much does it cost?
Price is per helicopter not per person
6 min – Tour of Lérins Islands – 3 seater – €135, 5 seater – €250  
12 min – From Croisette to the Bay of Golfe Juan tour – 3 seater – €240, 5 seater – €490
25 min – Between the land and the sea tour – 3 seater – €470, 5 seater – €870
45 min – Escape to Monaco or Saint Tropez tour – 3 seater – €750, 5 seater – €1490
60 min – Gorges du Verdon tour – 3 seater – 950€, 5 seater – €1800
Heliair Monaco
Meeting point – Heliport de Monaco, 2 Avenue des Ligures, 98000 Monaco, Tel: +377 92 050 050, www.heliairmonaco.com
How much does it cost?
Price is per helicopter not per person, flight time between 10.00 – 17.00
10 min – Monaco, Cap Martin to Menton tour – 5 seater – €300
20 min – Monaco to Eze, Villefranche sur Mer, Cap Ferrat to Nice tour – 5 seater – €500
30 min – Monaco to Mont Angel, Alpine range tour – 5 seater – €750