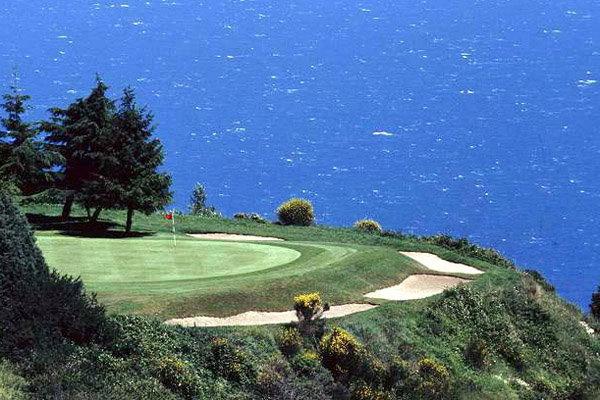 17 Oct

Golf on the Riviera

A story has it that the name Golf originates from an old English sign that read "Gentlemen Only, Ladies Forbidden", so when it was shortened to just the first letters, it became GOLF. Odd, but believable.

French golfing history goes back as far as 1856, with the opening of Pau golf course near the Spanish border thanks to the influence of Scottish golfers. It was not only the first golf course in France, but the first golf course in mainland Europe.


In France, there's no shortage of meticulously manicured courses within half an hour to an hour of wherever you are based and the French Riviera is no exception.

There are many things that will interest you about the local golf courses, classic layouts, traditional club houses, proud history and unique culture. With the guarantee of plentiful sunshine and sacrosanct nature with typical Provençal flora- lavenders, olive trees, cypresses, the Côte d'Azur makes for an interesting golfing destination. Golfers from around the world get together here for the love of game, its social, physical and emotional benefits such as strong sense of camaraderie and competition.  

Especially on the Riviera, golf is more than a hobby: it's pure joy, and a way of life, French 'art de vivre'. We've carefully chosen some of the 'golf hotspots' around Nice, they are listed in no particular order and yes, there is plenty more around here. Choose depending on your preference…Enjoy and don't forget that life is full of dents, dimples and dings, just like a golf ball…that's what makes it challenging and more fun.
Monte Carlo Golf Club
Route du Mont Angel, 06320 La Turbie, Tel : 04 92 45070
18 Holes – Par 71 – Length 6004 meters – Handicap limit on weekday 35 and on weekend 32.
Visitors are welcomed –  with a valid handicap certificate.
Naturally, there is not much room in miniature Monaco with an area of only 2020  square kilometres (0.780 square miles) however amazingly, you can play some golf here, the only problem is that its Monte Carlo Golf Club is in fact located in France.
The golf club designed by Willie Park Jr. and built by the English colony of Monte Carlo opened its gates in 1911. Originally it had 18 holes (which today corresponds to the the first 12 holes), 2 tennis courts and pigeon shooting range. The golf club has been constantly improved with the last major renovation completed in 1995, when 3 new holes have been added, 3 greens have been restored and the club house modernised.
Perched up 860m in the height of La Turbie, between the sky and the sea, the layout of Monte Carlo Golf Club is naturally beautiful. Stroll in the fresh air and sun, enjoy the views of the mountains and the Mediterranean coast, particularly at hole number 5, from which you can see three countries at the same time. You will gather, it is not displeasing to the eye…
Not only visually stunning, the course is flawlessly maintained with excellent fairways, fairly fast and challenging greens (as most greens are at the edge of the cliff). The course is varied and rather hilly which results in many blind spots and need for accuracy and precise stroke. It is one of very few non flat courses in the area and thanks to its elevation, you get a great workout.
The Golf Course of Monte Carlo is very traditional and classy, yet very welcoming and unpretentious, so do not be put off by its name. If you fancy a round of golf with little altitude this course may well fit the bill.
Golf Course Opening Hours
1st July – 31st August – 8.00 – 20.00
1st April – 30th June & 1st September – 31st October – 8.00 – 19.00
1st November – 31st March 8.00 – 18.00
Practice grounds are closed every Wednesday between 14.30 – 16.00 during the school season.
The restaurant serves lunch between 12.00 – 15.00 every day except Monday.
The bar closes at 18.00 in low season (17.00 on Monday) and at 19.00/19.30 in high season.
Fees
Green
Weekdays – 130€, Weekends & Holidays 160€
Practice
Weekdays – 40€, Weekends & Holidays 50€
There are clubs, golf bags, shoes, golf buggies, electric buggies and caddies for hire. Caddies must be booked in advance and cost 42€ per 9 holes per person or 80€ per 18 holes per 2 person's.
Golf de Saint Donat
270 Route de Cannes, 06130 Grasse, Tel: 04 93 09 76 60
18 Holes – Par 71 – Length 6031 m – Handicap limit 40
Non members are welcomed – a valid handicap certificate from player's home is required.

© Photo Christian Pedrotti
Saint Donat is a beautiful golf project near Grasse started by the famous architect Robert Trent Jones II. and the Benedetti Group, inaugurated in 1993.
First you wouldn't think much of its beauty or tranquillity as it is set in a residential area and a busy highway runs along one part of the golf course but once playing, you will be charmed by its surroundings – farm ruins, an old church, manor and the river Mourachonne.
Smoothly undulating terrain is enhanced by tree lined holes, elevated tees, bends and water hazards including river and lakes that cross fairways. It is a hilly course so renting a buggy might be good idea.
The greens are excellent, true and fast. If you are a long hitter, expect several tricky, sometimes frustrating moments that must be tackled with strategy. The 9 Hole compact pitch and putt with a par of 27 is recommended for the beginners or those who wish to improve their short shots. It is both fun and challenging golf course that awaits avid golfers as well as the casual gamers.
Golf Course Opening Hours
Opened all year round except of Christmas Day from 8.00 – 18.00.
The restaurant serves lunch every day except Monday from noon till 15.00.
Fees
Green
€85 for 18 Holes.
9 Holes – Twilight Golf – 3.5 hours before sunset €90 / 9 Holes 2.5 hours before sunset or early in the morning €49
Practice
A bucket of 40 balls €4 – get tokens at the reception.
18 Holes golf cart €43, 9 Holes golf cart €21
Manual trolley €9, electric trolley €21
Set of club €35
Possibility to hire a caddy, request in advance.
Cannes Mougins Golf and Country Club
175 Avenue de Golf, 06250 Mougins, Tel : 04 93 75 79 13 www.golfcannesmougins.com
18 Holes – Par 71 – Length 6312 m – Handicap limit 28.
Visitors welcome – with a valid handicap certificate.
Cannes Mougins golf course has a lot of history and strong names behind its creation, design and architecture. Formed by the wish of 'Aga Khan, the Prince Pierre of Monaco and Baron Edouard de Rothschild in 1923, it was later remodelled in the 70's by Dave Thomas and BBC golf commentator Peter Alliss. In 2015, a prominent golf course architect Tom Mackenzie was called in to upgrade the course, renovating 25 fairways and 26 green side bunkers.
The course gained European reputation thanks to the 'Cannes Open', a tournament that was incorporated into the European Tour and played annually from 1984 to 1998. It returned in 2001 as a one-off event to replace the Estoril Open, which was  cancelled following the 9/11 attacks in the United States.
The magnificent site, surrounded by Valmasque Nature Park, winds its way through the forest and the gently undulating course is traversed by a river. Expect several water hazards that together with strategically placed bunkers challenge the skills of golfers of all handicaps.
The lengthy greens are a feature of this golf course, firm, fast and true requiring a little extra attention and technical expertise before you putt. Another advantage is that there are no long walks or buggy rides between the green and the next box. Many of the holes are doglegs and the tough and wide fairways often slope, certainly not easy. Despite the technical finesse, the golf course offers a relaxing pleasure whilst a good game of golf.
The clubhouse is an old oil mill which dates back the 17th century, featuring a lovely restaurant that is opened all week between 10.00 – 19.00 (10.00 – 20.00 during the summer).  
This is not a cheap golf venue, yet, you will not be disappointed. It is classy, old school and designed for a golfer who appreciates the traditional honors of a game.
Golf Course Opening Hours
Opened all year round, some exceptional day closures during the winter.  
Fees
Green
18 Holes – €120 during the week and €150 during the weekend and bank holidays.
9 Holes – €90 during the week and €120 during the weekend and bank holidays, starting time at 15.30 (time depends on the season).
Practice
A bucket of 40 balls €3.
Buggy for rent €40.
Possibility to hire a caddy, book in advance.
Royal Mougins Golf Club
424 Avenue du Roi, 06250 Mougins, Tel: 04 92 92 49 69
To book your tee time, you need to ring the pro-shop 04 92 92 49 79 or email proshop@royalmougins.fr
18 Holes – Par 71 – Length 6004 m – Handicap max 32 Ladies, 28 Gentlemen
Visitors are welcome, however limited to five rounds per year. The golf carts are mandatory for any golf round and booking is essential. You must provide your golfing licence or a proof of handicap.
The course was laid out by a talented architect Robert Von Hagge, one of the 'infamous Marlboro commercial men', but primarily known for creating some of the most famous golf courses in the world. He knew 'the ups and downs' of the courses well – he worked as a caddie, caddie master, member of the maintenance crew and assistant golf pro before he was 17. His characteristic signature and personality is present all over the course. Visually it is a joy, technically it is an art masterpiece. A challenging layout from whichever tee you choose, clever positions of the bunkers and at least 10 holes having water in play, it might seem too tough at the first glance. Be prepared to use a wide variety of skills and almost every golf club in your bag!
The majority of the terrain lays in the sheltered 'Vallon de l'Oeuf', bordering peaceful countryside with typical Provencal vegetation. It is separated into sections by a quiet local road and Grasse – Cannes railway which crosses the course. Despite the sectioning, the course flows naturally thanks to Von Hagge's master design.
The golf course is undulating, varied with some hilly areas and flat wooden parts on the bottom of the valley. There are eight lakes, linked by streams and waterfalls, so plenty of water hazards to test your technical finesse.
The hotel that belongs to Royal Mougins Resort has been voted the best French golf hotel in 2016 and 2017, so luxury and class can be expected. The restaurant of the Provencal style club house serves exquisite food and wine, so be sure to indulge some after your game.
Golf Course Opening Hours
16th April – 14th November – 7.30 – 20.00
15th November – 15th April. 9.00 – 18.00
The driving range is closed for maintenance every Sunday from 15.00 until 10.00 Monday morning.
Restaurant is opened every day 12.00 – 16.00 and 19.00 – 21.00
Fees
Green
16th April – 14th November – 18 Holes – €200 (including golf cart), 9 Holes €100
15th November – 15th April – 18 Holes €145 (including golf cart), €118 (on foot), 9 Holes €73 (including golf cart), €58 (on foot).
Practice
A bucket of balls €2
Set of Clubs €50
Golf Cart 18 Holes €27, €15
Manual Trolley €10, electric trolley €20
Golf Club Opio Valbonne
Route de Roquefort les Pins, 06650 Opio, Tel: 04 93 12 00 08
www.opengolf.com/opiovalbonne, www.chateau-begude.com
18 Holes – Par 73 – Length 5398 – Handicap limit 36.
Non members are welcomed – a valid handicap certificate from player's home is required. Advance booking is essential, check the updated prices on the booking engine of the website.
Opio Valbonne Golf Course, inaugurated in 1966, is one of the oldest golf courses in the region. It was drawn by the pen of a true gentleman of golf architecture – Donald Harradine. His style was the simple and uncomplicated integration of the course into the natural landscape whilst producing a tough but fair golfing challenge. In 2002 it was remodelled by Robert Berthet and the most obvious differences are the changes on holes 10. 11 and 14 and at the most of the greens.
Laying on 220 hectares of beautiful land with a typically Provençal vegetation, the golf course benefits from the exceptional climatic and geographical situation, plentiful sunshine and a natural shelter from the winds.
The renovated 17th century Chateau de la Bégude complete with its Gallo-Roman aqueduct offers 19 rooms and 16 suits and two fine dining restaurants overlooking the golf course.
Alongside the fairways, a small river and centuries old oak and olive trees make it pleasantly cool on hot summer days.
This is a short course, with many holes lacking the length or space, that will reward a careful and precise golfer rather than stubborn big-hitters. Fun for beginners and a thorough test for more capable golfers. Water hazards come into play on a few holes while bunkers are moderately used.
Golf Course Opening Hours
Opened all year round from 7.00 – 19.00. The restaurant serves lunch every day between noon and 14.30 and dinner between 19.30 – 21.00 (except Sunday night).
Fees
Green
18 Holes – Morning – 7.00 – 14.00 – €85, Afternoon – 14.00 – 16.00 – €74, 16.00 – 17.00 – €61, Evening – 17.00 – 19.00 – €44
Ladies Day Special Offer – Every Tuesday, 18 Hole Green Fee purchased gets a second one for free- strictly reserved for ladies only.
Practice
A bucket of balls €6
Golf Country Club de Nice
698 Bd du Mercantour, 06200 Nice, Tel: +33 (4) 9329 8200, www.golf-club-nice.com
9 Holes – Par 27 – Length 1380 m, Maximum handicap 26.5
Located on the west side of Nice, some 5 kilometres north of the airport, Golf Country Club de Nice features a 9-hole course. The course is a short one but nicely laid out and the advantage is that you can grab a set of clubs and get to the first tee in under 30 minutes of leaving downtown Nice. This is a perfect option if a proximity to Nice is your preference or if you are a beginner or low handicapper wishing practice your swing or to improve your skills. More advanced golfers might feel frustrated and even cramped in the small area that tends to get crowded at weekends and evening time.
There is a 27 bay driving range, putting green and bunker training area. The club also organises a range of customised lessons, and the golf course is complemented by a very reasonably priced restaurant, bar and a pro shop.
Car is necessary to access the golf course, there is no public transport from the city to the course.
Golf Course Opening Hours
The course is opened all year round (except Christmas day) from 8.00 – 20.00
Fees
Green
9 Holes €30
Practice
A bucket of 44 balls €4