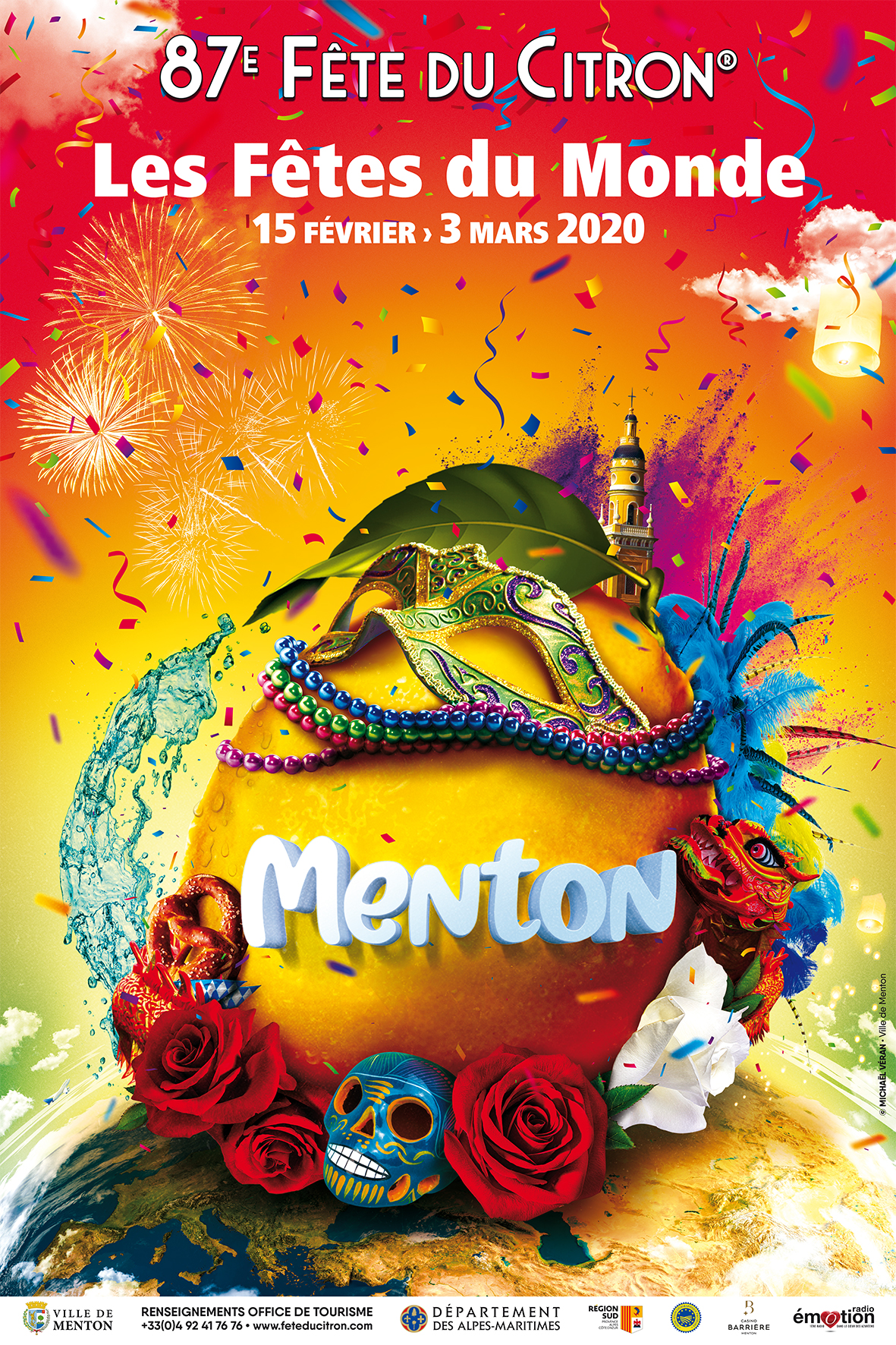 15 Jan

Fête du Citron 2020 in Menton – All You Need To Know

Each February sees the seaside town of Menton on the Franco-Italian borders stockpile over 145 tons of citrus fruit in preparation for its annual Fête du Citron. The normally calm streets, parks and squares turn into a colorful carnival, surprising its visitors with eccentric sculptures made almost entirely of citrus fruit. Giant creations are set up in the Biovès Gardens, each one representing a different aspect of the theme for the year.

The more than two weeks long extravaganza celebrates the local lemon heritage, the town it grows in, the farmer and the community. One would have to look very hard to find something quite as unique as the Lemon Festival. By the end of this you will not only be tasting lemons but dreaming lemons and you will never see this zesty fruit in the same light.

So what makes Menton's lemons different from the others? It is mild in taste, full of juice and essential oils, intense, fresh with a great deal of sweet fragrance, yet not as acidic. Its bright yellow color and large egg shape differs from its neighbouring Italian, and Corsican varieties. In 2015 it obtained a European classification of 'Protected Geographical Indication' (PGI) and is recognized by many chefs and food gourmands.
History of Menton Lemon Festival
It is believed 'the Menton lemon' came originally from Egypt but nobody is exactly sure. The history of the lemon growing in the area can be traced back as far as the 15th century. In the early 1920's Menton was the biggest producer of lemons in Europe and the festival was born in Menton's heyday of lemon growing.
A hotelier came up with the idea of organizing a flower and citrus fruit exhibition in the "Hôtel Riviera" gardens. It was such a success that the following year the event moved out onto the streets with a parade of floats ornamented with orange and lemon trees. In order to develop tourism, the local authority decided to give the event a local flavour and the first official La Fête du Citron was born in 1934.
In comparison, years back there was over 100 000 lemon trees to be found in the region while today it is only 3000. All this is down to the frost and diseases killing the harvest. Today, about 60 tons of lemons are produced every year in this area by only 12 farmers. Menton and its climate (on average 0.7 degrees Celsius warmer than Nice) is very favorable for growing citrus fruit.
Menton Lemon Festival 2020
The 87th edition of Fête du Citron will be held between the 15th of February and the 3rd of March 2020. The theme of the festival changes every year, this year's being "Les Fêtes du Monde" celebrating traditional holidays and festivities from around the world.
It is an activity packed event, and even with over 240,000 visitors every year, it feels less touristy and more local than its neighbouring Nice Carnival starting at the same date.
There are several free street animations but the Golden Fruit Parades, Night Time Parades, the Exhibition of Citrus Patterns and Gardens of Light require tickets.
To see the full program and to purchase tickets online, go to the official website www.fete-du-citron.com or buy them in Menton's Tourist office (Palais de l'Europe, 8 Avenue Boyer, 06500 Menton). In general, it is better to book online, as you save some pennies, plus if you prefer to be seated, you need to make a reservation in advance. Children between 6 years and 14 years old get a reduced price, the little ones under 6 go for free.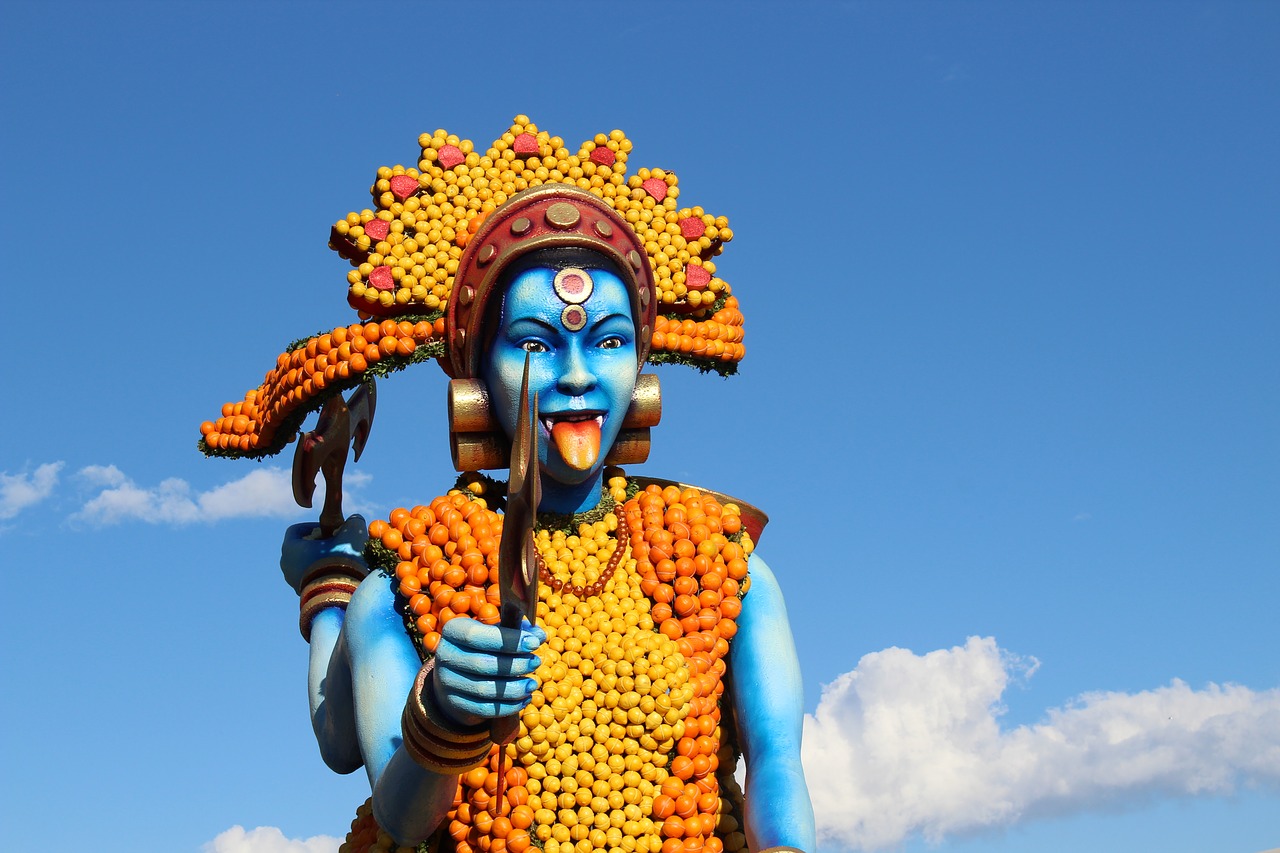 The Highlights
Day Time Golden Fruit Parades
Sundays the 16th and 23rd of February and the 1st of March 2020 from 14:30 to 16:00 on the Promenade du Soleil.
Night Time Parades
Thursdays the 20th and 27th of February 2020 from 21:00 to 22:15 on the Promenade du Soleil.
Allegorical floats filled with citrus fruit will be perched on lorries ready to parade through the narrow streets of Menton and meet together at the seafront. They will be  accompanied by acrobats, folk groups, brass bands and costumed entertainers who practiced for months to get this special occasion just right. The night time parade is followed by fireworks at 22.30.
Daytime Exhibition of Citrus Patterns
Every day from the 15th of February to the 3rd of March in the Biovès gardens. The official opening of the festival is on the 15th of February at 14:00.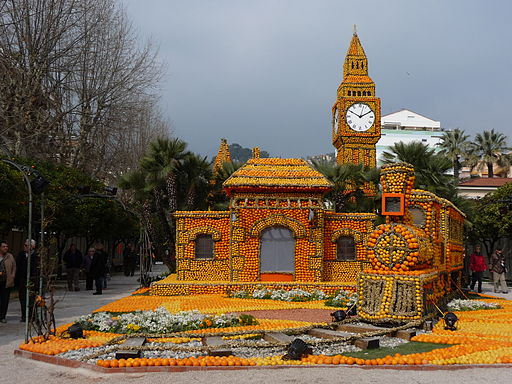 Nightime Gardens of Light
On the 15th, 21st and 28th of January 2020 from 20:30 to 22:30 in the Biovès gardens. Our tip is to arrive at a minimum an hour before the closure to benefit from all the entertainment.
The Bióves Gardens get all decked out in yellow and orange colors for the festival with up to ten meters high sculptures and patterns. It takes thousands of hours and very skillful hands to create them as the fruit is traditionally placed piece by piece. The Gardens of Lights night exhibition portraits the set up in a completely different perspective using laser light show, music and themed entertainers.
Arts and Crafts Shows – Palais de l'Europe   
Presentation of a work of local artisans, ceramics, pottery, glass engraving, wooden sculptures and naturally Menton's gourmet lemon flavoured delights. Free entry, opened every day 10:00 – 18:00 (closing at 19:00 on Thursdays, Fridays and Sundays).
Try Local Produce
There are plenty of local goodies to try during the festival. Mentons 'Tarte au Citron' (lemon tart), 'fougasse' (a Provencal flatbread with orange blossom) and jams made in the old fashioned way (can be blended with other flavors, such as lavender, figs, cinnamon, sweet or bitter orange). As for the jams head to Confiturerie Herbin on 2 Rue de Vieux Collège in Menton where you can sample most of the unbelievable selection of jams and jam related products. Keep an eye out for the lemon infused olive oil,  Limoncello digestif, Limoncello flavored beer, Menton lemon wine (made by macerating lemons and spices in wine) and some heavenly scented perfumes. 'Fruit d'or' (golden fruit) has always played an important role in Menton's cuisine and history.
You might ask, what happens to the 145 tons of fruit after the festival? The rotten ones are obviously thrown out or composted and the rest are sold for bargain prices to people willing to que up on the day of the sale starting at 9:00 am.
How to get there
Bus number 100 from the Port of Nice (takes about 90 min), the ticket costs 1.50 € one way and can be purchased with the driver.
Train from Gare Thiers Nice (takes about 40 min) and costs 5.50 € one way. Tickets can be purchased from the ticket machine or at the desk in the train station or online on www.oui.sncf .